Woods Bagot has released concept designs of the second South Australian Health and Medical Research Institute building, SAHMRI 2, which will be built in Adelaide's growing health and biomedical precinct on North Terrace.
Housing an advanced clinical and research facility, the new building will be situated adjacent to the original SAHMRI building, which was also designed by Woods Bagot and completed in 2013. But while the original, parametrically designed SAHMRI invited comparisons to metallic pine cones and cheese graters, the new building will feature a more restrained façade.
"A purposeful and restrained approach has informed the design of the tower component, with repetition of glass panels, rectangular curtain walling and sun shading system, creating an elegant and sophisticated design aesthetic," the architects said in a statement.
SAHMRI 2 will be built on a corner site of Adelaide's new health and research precinct, located at the north-west corner of the CBD. The building will have three frontages, one to North terrace and the city, one to the nearby river, and one to Adelaide's convention and entertainment precinct.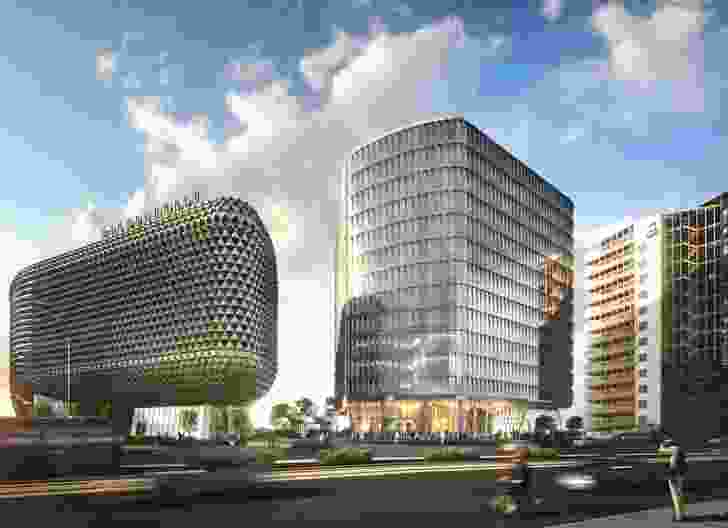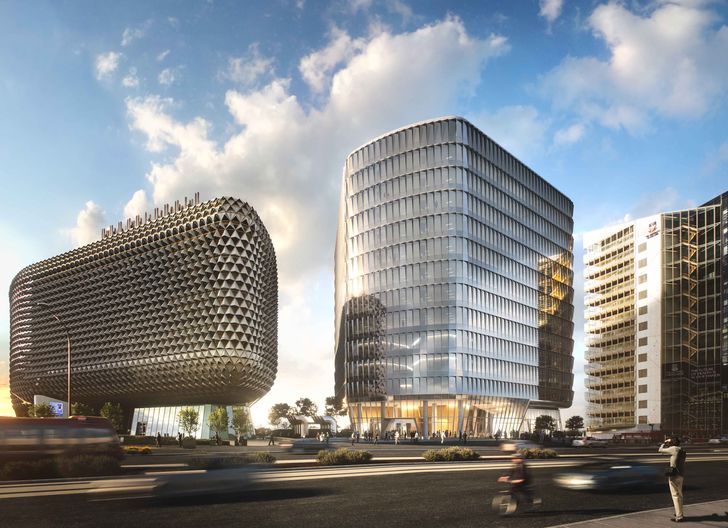 Woods Bagot director Thomas Masullo said a transparent building lobby, retail areas and an outdoor terrace will activate North Terrace, while the integration of built form and landscape will result in a variety of public and private open spaces.
SAHMRI 2 will be part of the $3.6 billion Adelaide BioMed City precinct, which is one of the largest health clusters in the Southern Hemisphere. Since the completion of SAHMRI in 2013, the new Royal Adelaide Hospital, designed by Silver Thomas Hanley and DesignInc, opened in 2017, while the University of Adelaide established its Health and Medical Sciences Building, designed by Lyons Architecture, and the University of South Australia built the Health Innovation Building, designed by BVN and Swanbury Penglase Architects.
"The original SAHMRI was a catalyst in the resurrection of inner-city Adelaide, and the evolution of an internationally regarded bio-medical precinct," said Masullo. "The design of SAHMRI II echoes the gravitas of this precinct, where state-of-the-art technology is part of the city's ongoing transformation."
The proposed $273 million SAHMRI 2 building will house Australia's first proton therapy unit for cancer treatment, which will deliver the most technologically advanced, precision radiation therapy in the Southern Hemisphere.
The South Australian government will contribute $44 million to the project while the federal government will pay $68 million. A development application for the project was submitted in April, and the building is expected to be completed by 2021.