Construction has begun on a new building for the Deakin Law School at the Burwood campus in Melbourne.
The eight-storey building designed by Woods Bagot will include a range of contemporary and interactive learning spaces, flexible staff workspaces, student support facilities and health and wellbeing services.
The building will be located in the north-western precinct of the Burwood campus, adjacent to the Burwood Link pedestrian bridge by Watson Architecture and Design.
"The project is a defining one for the role of architecture in teaching and learning for the university," said the architects in a statement.
Deakin University's Burwood campus is bisected by Gardiners Creek, causing its north-western edge to be "largely disassociated from much of the campus."
"Through these constraints it became apparent early on that the building had a greater role to play within the campus," the architects stated. "It needed to provide an organizational framework for the surrounding public realm, pedestrian and traffic flows and link to key existing infrastructure."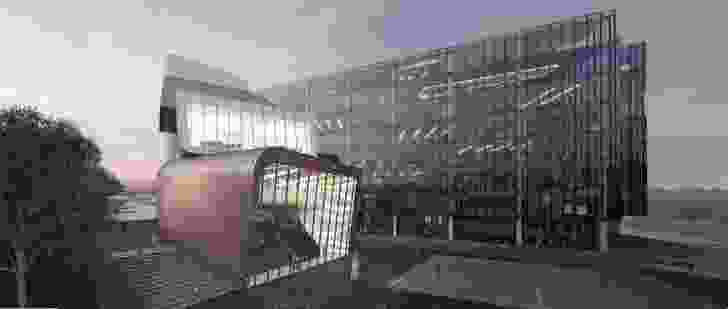 The building will include a vertical volume with fluted concrete surfaces that will capture light and shadows throughout the day. A glazed rectilinear wing adjacent to the concrete volume will contain flexible classrooms that can expand and contract to meet capacity requirements.
"[The brief] outlined a need to provide a variety of differently sized formal and informal learning spaces predominantly in a flexible flat floor configuration, supplemented by a range of student-facing services, retail outlets and staff offices," the architects stated.
A series of "premier learning spaces" – larger, experimental spaces – will be connected to the organically arranged circulation routes and oriented towards different aspects of the campus.
The building will also include a range of sustainable design features such as rainwater harvesting, glare control systems, activity and fitness spaces and fully accessible end-of-trip active transport facilities.
Deakin Law School dean Jenni Lightowlers said, "This building will embrace and support the 21st century need for flexible digital and physical infrastructure. It will provide a contemporary environment for both our students and staff that will be equipped with the latest technologies that can adapt to a range of educational futures."
Related topics