A three-tower project near Perth Arena and Yagan Square designed by Woods Bagot will be "transformative" for the area, according to the council's design advisors.
The Wellington mixed-use development will cross five lots along Murray and Wellington streets and include a new 26-level office building, 33-level residential building and the refurbishment of an existing Four Points by Sheraton hotel.
A network of public plazas and laneways, with landscape architecture by Plan E, will connect the buildings.
According to Woods Bagot, the design takes its cues from the sawtooth roofs of the area's past industrial buildings, incorporating that form vertically into the facades.
"The subtle facet to the residential podium [and] commercial podium and the overclad to the existing Four Points facade, is a subtle reference to the sawtooth geometry without being overtly referential," say the architects. "A continuity of stone, brick and metal across the site unifies the ground plane and ties the three buildings together as one development."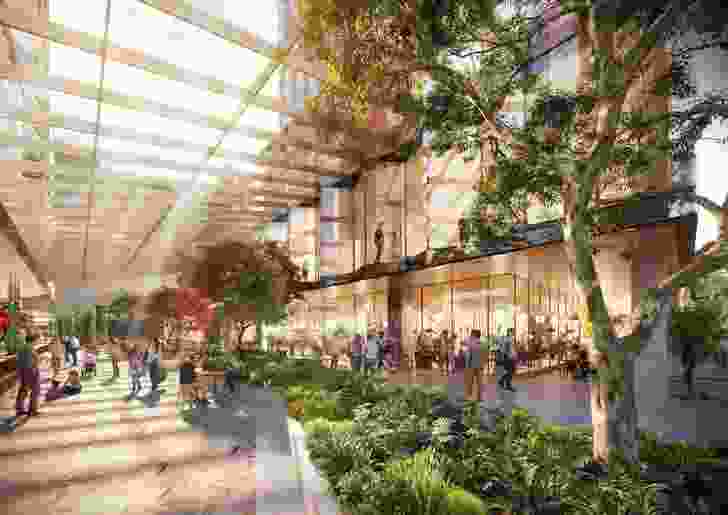 The office building will occupy the vacant site on Wellington street opposite the neofuturistic Perth Arena, designed by ARM Architecture and Cameron Chisholm Nicol. Woods Bagot stated that the tower is designed to look "as though it has been split into two bars with unique identities and slid vertically and horizontally to accentuate the slenderness of the elements."
Fronting Murray Street, the apartment tower will include 155 dwellings (14 three-bedroom apartments, 84 two-bedroom apartments and 57 one-bedroom apartments).
A new mid-block pedestrian link from Murray Street through to Wellington Street is intended to serve both patrons of the development and punters headed to the Perth Arena.
The City of Perth will decide the proposal's fate on 20 February, but council officers and the Design Advisory Committee (DAC) are both recommending approval, with the DAC passing a motion that it "considers that the proposed development will be transformative for this part of the city centre and that the architecture is well resolved."
Council officers are also recommending councillors grant a 20 percent bonus plot ratio for the provision of residential use and a 10 percent bonus for the inclusion of public space, along with a child care centre and end of trip facilities available to the public.
Related topics