The entrance to the new Woollahra Library in Sydney's Double Bay has a thriving vertical garden and devil's ivy cascading from levels above. This vibrant greenery was an underlying design concept for the project, derived from the much-loved heritage gardens of the library's previous site, but it also reads as a metaphor for the library itself. Libraries, like gardens, are places of growth – places to learn new skills, to gain knowledge, to develop ideas. They also fill another important civic role as a dynamic, versatile and connective hub for the community.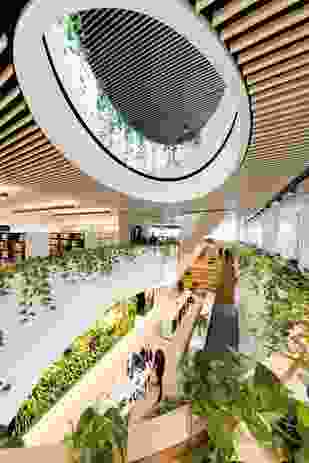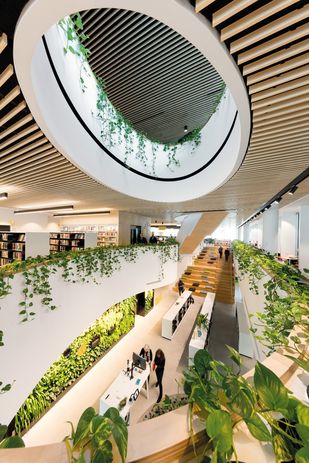 Woollahra Library opened in 2016 with the design by BVN. Part of a new development with other commercial and retail buildings, the library is a buzzing hive of comforts and conven-iences that sees eager patrons arrive before opening hours. It has been designed to attract a broad range of demographics and by offering a variety of spaces, programs, activities, events and resources, the library now serves as a play area, study centre, work space, meeting point, information source, function centre, book custodian, record keeper and support centre.
Making all this work in a two-thousand-square-metre area across three levels required clever and successful space planning. BVN created a flexible floor plan with zones that cater for different age groups, purposes and noise levels.
On the first level, the traditional "shush" has been replaced with screams of delight as children play, read and do arts and crafts. Its design evokes the concept of a garden with tree-like columns, grass-green rugs and suspended paper-art birds. The building's architecture proves as interactive as the books within it, encouraging children's inquisitive nature. Stairs are for climbing and cosy caves for curling up in, and a red slide transports children into a colourful reading area surrounded by a "very hungry caterpillar" of books and a tropical mural by Sydney artist Mulga. It is a place for making childhood memories and in the context of learning.
The wide staircase is a functional and social space. Leading to the second level, it also serves as seating and as a theatrette for movies and events. The noise dims on level two, where stacks of books, DVDs, magazines and newspapers appear more like a conventional library. But don't be fooled – there's also a youth's tech room with computers and PlayStations, and a second technology zone with desktops and iPads for members. A variety of seating caters for different levels of privacy, productivity and purposes: high school students take up seats and tables around the glass perimeter of the building, university students snag the enclosed pods and older patrons pull up comfortable armchairs.
Level three is quieter yet, with subdued lighting and ambience and dark leather lounge seating around a cosy fireplace. Freelancers, workers and students settle in on this level, which almost functions like a co-working space. There are chairs and tables, booths and meeting rooms and patrons are allowed to bring food and drink, encouraging them to stay all day. Book stacks undulate around the edge of the space and a local history section makes documents and records easily accessible.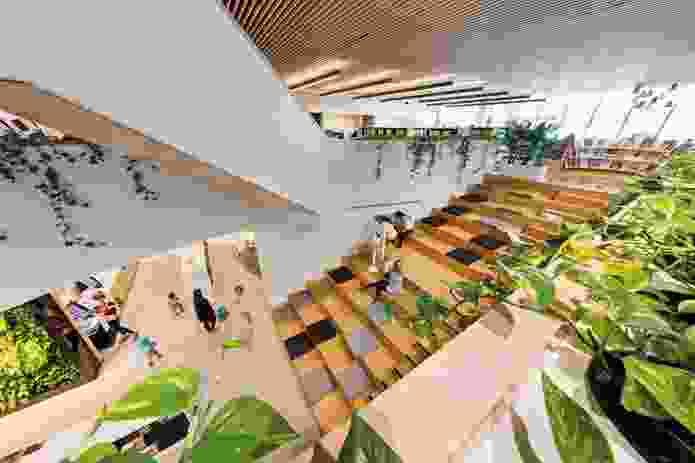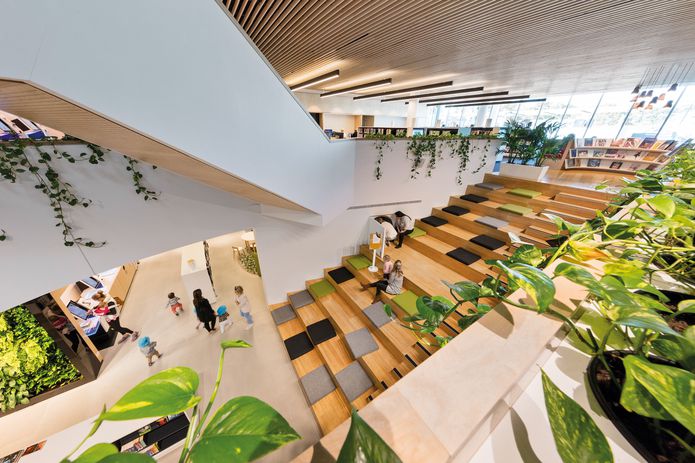 There is warmth and rhythm to the library's spaces and design details, which foster and echo the library's friendly and vibrant energy. Timber trim and white birch ply walls are tactile, and the Aspen timber-slatted ceiling emphasizes the organic-shaped voids that punctuate each level and allow natural light to filter into the spaces below. These voids connect the levels and spaces of the library, giving wholeness to the environment and encouraging it to be explored. Indeed, as BVN principal Bill Dowzer describes, "It's almost like a treehouse, it has to be explored."
All the behind-the-scenes elements and spaces are cleverly concealed and much of the book-lending process is automated. Librarians are no longer stationed at desks, but rather circulate with an iPad and phone to help patrons as needed.
Throughout the library there is also a playful and abstract language of pixelated plywood blocks affixed to the wall – the centrepiece arrangement is inscribed with members' names and the title of their favourite book. It reinforces the notion that this library is for and about the community, which is also evident in how well the community has embraced it. There has been a 40 percent increase in circulation, four thousand new members and, on average, 2,500 visitors per day since the new library opened.
Libraries have always held a valued place as hubs of information, knowledge and learning – and now as hubs for the community. While Woollahra Library may be a library in name, the main emphasis here is on people, not books. As a space designed for exploration and connection, it is a place for people and the community to learn, interact and grow.
Products and materials
Walls and ceilings

EC08 plasterboard ceiling from CSR Gyprock. Concept Click timber ceiling from Woodform Architectural. Autex Quietspace fabric wall panelling from Kvadrat Maharam.
Flooring

Eco Flooring Systems bamboo flooring and stairs from SE Timber. Eco One V800 main carpet from Geo Flooring. Hand-tuffed custom rug inserts from Designer Rugs. Pandomo FloorPlus concrete topping from Ardex Australia. Mirage artificial turf from Renograss.
Lighting

XAL GMBH downlight from Space Lighting. Castore 45 pendant from Artemide.
Furniture

Kelly chair in dark green from Jardan in welcome point and parent's room. Artek Chair 65 and Table 90A from Anibou in junior study. Jules junior desk chair from IKEA in junior study. Monica Smarin Livingstones floor cushions from Poliform in preschool children's area. Seating cushions from Kvadrat Maharam in window seat. Ophelis Docks modular system from Envoy in welcome point. Bloom Circlet seat module from Stylecraft in junior study. Artek E60 stool from Anibou in window seating. Lowe coffee table from Hub Furniture in welcome point.
Other

Vertical garden in terrace by Joost Bakker for Schiavello. Devil's ivy from Urban Growers.
Credits
Design practice

BVN
Australia
Project Team

Alex Harrington, Andre Callanan, Andrew Buchanan, Barry Dineen, Brian Clohessy, Chris Bickerton, Delia Ngay, Donna Wheatley, Erika Halim, Fiona Young, Jahan Faeghi, Jonathan Capparelli,, Kate Bulley, Knut Menden, Max Melser, Namaste Burrell, Nikita Notowidigdo, Olivia Hyde, Patrik Typpo, Pouwel Wind, Sara Pellegrini, Todd Hammond
Consultants

AV consultant Peace of MInd Technology, Norman Disney Young
Acoustic consultant Norman Disney Young
BCA consultant SW Partners
Base building architect Nettleton Tribe
Builder FDC Building Services
Builder (base building) Ganellen
Fire consultant Defire
Hydraulic, mechanical and electrical consultant Norman Disney Young
Library consultant David Jones, Library Doctor
Lighting Light Practice
Project manager Savills Australia
Quantity surveyor WT Partnership
Specification writer Hanimine
Structural engineer Taylor Thomson Whitting
Structure Brown Smart Structures
Wayfinding and placemaking Citizen

Site details

Location Woollahra, NSW, Australia
Site type Urban
Category Interiors
Type Libraries

Project Details

Status Built
Completion date 2016
Design, documentation 3 months
Construction 4 months

Source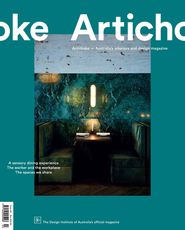 Issue
Artichoke, September 2017
Related topics