Work has begun on the construction of an $80 million collaborative research facility for the University of Wollongong, designed by Denton Corker Marshall and Jacobs.
The building's design is informed by the exacting requirements of the highly sensitive equipment that will be installed in the Molecular Horizons facility. These include cryo-electron microscopes and super-resolution optical microscopes that will be used for research at the molecular level.
The design is composed of three elements. The services block, in the south, will present as a "dark metal block" with irregularly arranged windows. In a design statement, the architects said that the "abstract" pattern of the vertically- and horizontally-aligned windows is a reference to the molecular systems being studied within. The south wing will accommodate meeting rooms, common spaces and some office/research areas.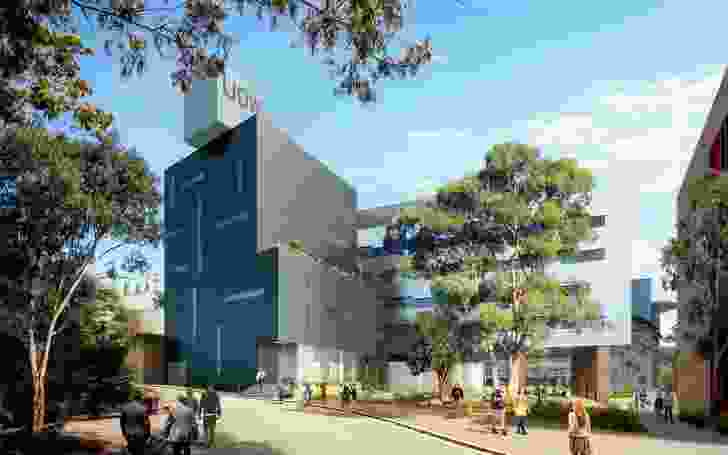 The cryo-electron microscopes in particular have also shaped the design. Their extreme sensitivity to electromagnetic interference mean that they have to be separated from services and lifts and required the use non-ferrous materials. This resulted in the separate services and lift block clad in charcoal aluminium connected to a glazed research laboratory.
The research block, to the north, is visually distinct from the southern structure. "This block is supported over the crystalline volumes of the ground floor which house specialist equipment," said the architects. "These crystalline blocks, visible from the various pedestrian paths and gathering spaces on site and the broader campus context, highlight the significance of the building."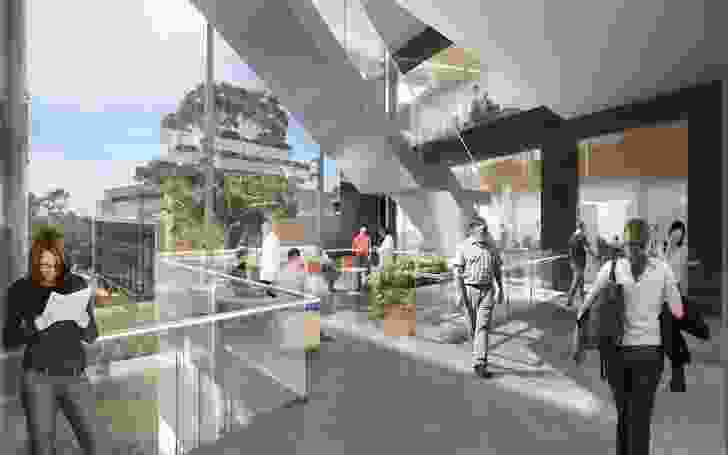 The east-west orientation of this block will result in long northern and southern facades, in order to take advantage of its passive solar design. Custom U-frame glazed facades on the part of the structure housing the microscopes will eliminate the need for external solar shading devices through the use of a custom frit pattern.
The two blocks connected by a glazed atrium containing meeting spaces.
The University of Wollongong envisages the facility as part of a broader integrated research precinct, co-located with existing research facilities including the Illawarra Health and Medical Research Institute.
Completion of the building is anticipated at the end of 2019.
Related topics