Work has begun on the construction of a new energy storage tower in the south-western German town of Heidelberg by Australian-German practice Laboratory for Visionary Architecture (LAVA). LAVA's design was shortlisted for the World Architecture Festival (WAF) Awards in the Future Infrastructure Projects category, announced last month.
The tower, which will be the tallest building in the city when complete, will form part of a regional heating network operated by utility company Stadtwerke Heidelberg. A transformation of a postwar gas tank, the tower will hold water heated by solar and wind generators, which is then used for domestic heating use.
LAVA director Tobias Wallisser said the existing tank was "a symbol of energy policy in the 1950s."
"Our task was to transform a big heavy industrial tank into a dynamic object," he said.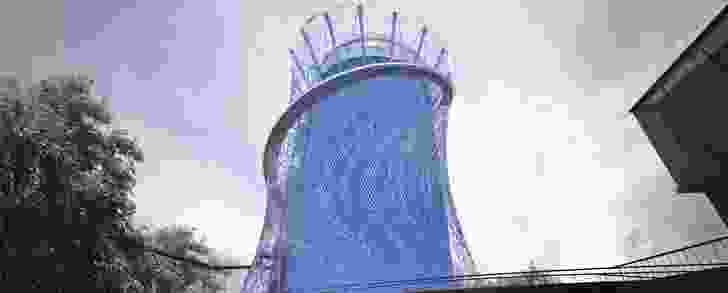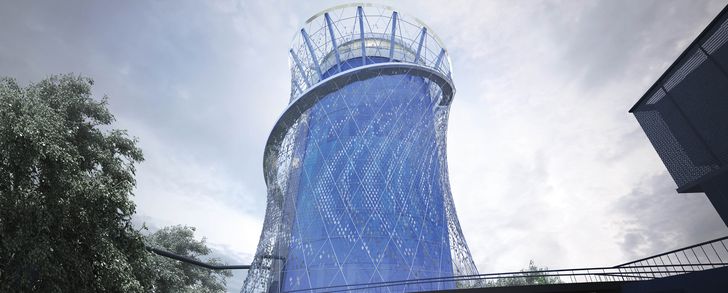 "Formally and geometrically the new water tank will not be much different from its predecessor. So this raised the challenge for us: How can the parameters of energy regeneration, decentrality, networking, flexibility and adaptivity be made visible in the design of the outer shell? How can an adaptive, dynamic system be produced without extreme technical control?"
LAVA's design, which was selected by Stadtwerke Heidelberg through a competition, features a distinctive facade crafted from approximately 11,000 diamond-shaped plates that are attached to a steel cable network, creating a veil that shifts in the wind. Beneath the veil, a staircase will wrap around an insulating inner shell of mineral wool in different shades of blue.
"[The] number of plates matches the number of households supplied with energy by the network … a visual signifier of the impact new technology can make," said Walliser.


The architects collaborated with German installation group WHITEvoid on the kinetic facade. The overall design concept is related to a previous LAVA proposal to re-skin the UTS Tower in Sydney with a mesh textile embedded with LEDs. Although unbuilt, the proposal was included in the Australian exhibition at the 2014 Venice Architecture Biennale.
Two roof-level event spaces will also be added to the tank's roof, accessible by new elevators.
LAVA was established in 2007 by Chris Bosse, who is the director of LAVA Asia Pacific, based in Sydney, and Walliser and Alexander Rieck who are based in Stuttgart and Berlin respectively as co-directors of the European division of LAVA. The practice's built Australian work includes Bosse's own house Tivoli Terrace, the Martian Embassy, and exhibitions including the Emergency Shelter exhibition and Green Void at Customs House.
Related topics