Read our review of the Apollo Bay House here.
Katelin Butler Could you tell us a little about your family and your background?
Jon Swann We live in inner-city Melbourne, have two children, Thomas and Sophie, and I am an executive with the Grill'd Group. My partner Lisa and I wanted a place for my family to feel present in the moment. I'd always had this vision of watching Tommy and Sophie walking up a hill from the water with flippers under their arms or fishing rods over their shoulders. I wanted our family to enjoy a different existence from our city lifestyle and have greater connection with the environment.
KB What is your connection to Tasmania?
JS We have used Hobart as a great place for offsite strategic planning meetings for the executive team. During our visits, we would take a boat down the channel between the main island and Bruny Island and I was really taken by the experience. I'm somewhat pragmatic and somewhat impulsive. One afternoon, I sat in the back of a boat with my boss, pointed across to Bruny Island and said, "I'm going to buy one of those places shortly." Soon after, I'd bought a block of land with a two-bedroom shack.
KB Why did you decide to engage an architect?
JS One of my earlier roles with Grill'd was as head of development and we engaged a lot of architects and designers to build our restaurants. I knew that when it came to my own house, I was always going to work with an architect. I wanted what we built to be unique.
KB How did you discover Dock4 Architects?
JS My son's best friend's dad, Christopher Botterill, is an associate director at Jackson Clements Burrows Architects and had coincidentally studied in Tasmania. When we started thinking about our Bruny house, I went to Chris as a friend for advice on the project. Chris suggested that it would be best to engage a local architect in Hobart. As Chris had studied with Richard Loney from Dock4 Architects, he recommended that I get in touch with him. I do think it's best to start with a recommendation from someone you trust, so I looked up Dock4's built work and the materiality of the projects really appealed to me.
KB What was your brief to Dock4 Architects?
JS My kids are growing up in inner-city Melbourne in front of iPads and I always thought that if we were to build something in Tassie, it had to feel completely different from our normal lives. The brief was as simple as that – to design something that makes me feel removed from my life in Melbourne. It was intended to be a holiday house, but ideally I'd like to use it more and more, for up to a few months at a time.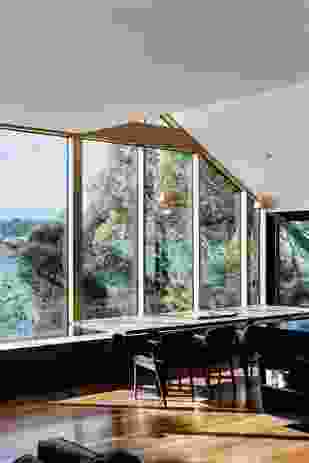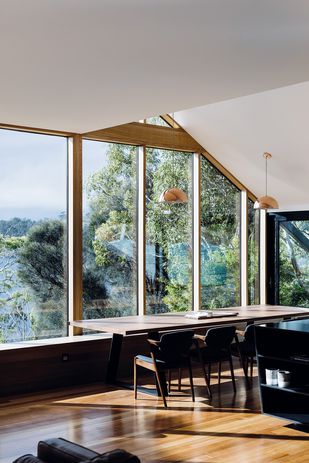 KB How did you prepare for your first meeting with Richard?
JS My brain never really stops. I didn't jot down what I wanted this house to be, I relied on my instinct and experience of working with architects in the past. If you spoke to Lisa, she would tell you that I have a natural sensibility with colours, spaces and materials. Maybe this is due to my work on design and development with Grill'd. I led the design and building of forty-five restaurants or so and based on my experiences, I didn't want to be overly prescriptive. I didn't want to lock the architects into something narrow – what I like to think of as train or tram tracks. I wanted those tracks to be as wide as possible, otherwise how would we end up with a sculptural prism on a block of land on Bruny Island? You probably wouldn't get there, right? I tried to give Richard breathing space throughout the whole process.
KB Yes, a good client understands that an architect needs room to move in order to get the best outcome. Is the result of working with an architect what you expected?
JS We love the house. It does exactly what we wanted it to do – we arrive down there and are transported to another place. As soon as you walk through the front door, you see the water. The house is an ode to its landscape setting. We love to go down there with friends and family and share the experience of Bruny Island with them.
KB How did you find working with an architect outside of your home city ?
JS I can read architectural drawings, so it wasn't a foreign process for me. There were lots of phone calls and we visited the site several times, at key intervals, during the project. I believed in the architect and I felt very comfortable with the builder, Mark from Aspect Building, and his attention to detail – I knew we were in good hands. As it was a holiday house, we weren't under as much time pressure as we would have been if it were our permanent home.
KB What advice would you give to someone thinking of using an architect? And would you do it again?
JS An architect will deliver something different from what you can dream up yourself. However, if you're thinking of employing an architect but you're not willing to allow the design intent to come to the fore, maybe an architect isn't for you. In a more pragmatic aspect, I think it's important to be really clear about timelines and budgets from the start.
I'd definitely do it again. Perhaps if it was a house in Melbourne for my family, I might be a little more prescriptive about how we wanted to live. If it were a house on Bruny Island, I'd do it exactly the way we did it.
Source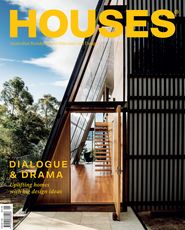 Issue
Houses, February 2019
Related topics