What role does a fitout play when it is in the architects' own offices? Partly it is to create a pleasant workplace for the employees, but of course the main asset here is a live portfolio, a three-dimensional, interactive design sample for clients and potential clients to touch and wander through. The new fitout for Plus Architecture's offices was organized as an in-house design competition that was open to all forty of the practice's staff. "The concept design needed to best represent who you think Plus is, and we weren't saying what that was," says director Craig Yelland.
The winning team consisted of four work experience students, whose scheme was selected above concepts by interior designers and project and associate architects. Their theme was "bringing the trees inside" – the space is within an office building on leafy St Kilda Road in Melbourne.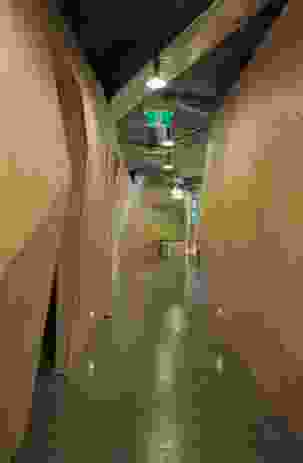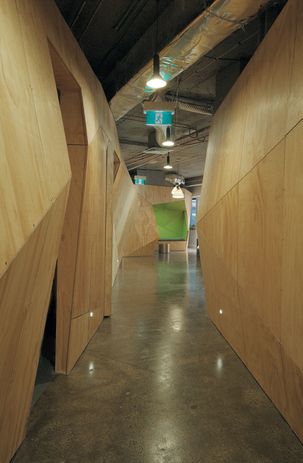 The plywood triangulated walls signify giant abstracted tree trunks lying on their sides. Carved voids create meeting and waiting zones, lined with green EchoPanel to follow the theme. "We ripped out the existing interior, stripping it back to basics, and polished the slab," says Yelland.
The construction was completed by the staff, apart from some specialist services like plumbing and electricity. Eighteen staff contributed to the build. It took longer than expected. "We had a really complex ArchiCAD model," says Yelland. "At one point we wanted to change something and it was going to take four hours of computer time, so instead we made the changes on site." None of the ply panels were computer-cut; the whole job was handcrafted on site.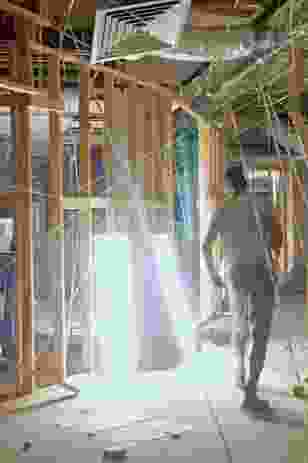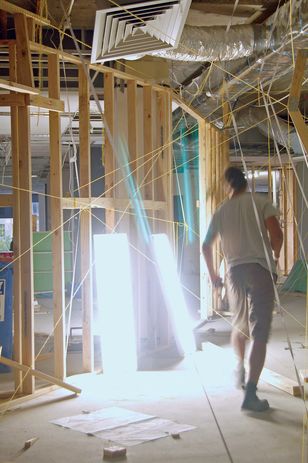 In order to set out the complex faceted angles, an ingenious combination of climbing ropes, waistband elastic and string was used in the building process. A length of elastic would be strung up between the ceiling and the floor, and a string attached to a brick would pull the vertex out to the right place. This delicate tracery would then be replaced by pine timber studwork. A web of lines filled the working space, with the carpentry team ducking and weaving as they worked.
I am reminded of the artist Fred Sandback and his spatial installations made of string. I wonder if it could have been possible to leave some of the string in place somewhere, like a 3D sketch in space? Perhaps it could have been done in the actual "office" part, where the fitout becomes less experimental. An existing fire escape in the centre of this working zone made it the logical service core, while the staff kitchen area includes table tennis and table soccer.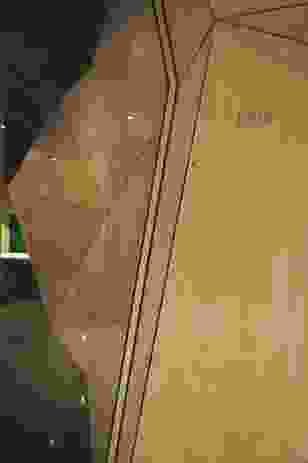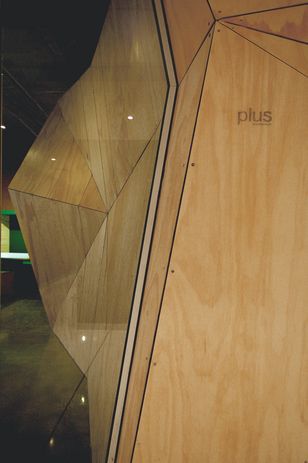 Most of the effort, and success, is in the public face of the office. From the entry foyer you see a plywood canyon, its twists and turns concealing the more prosaic staff areas beyond. On your way along the organic corridor you would be forgiven for missing the boardroom and the cloakroom, hidden by secret doors in the faceted wall. Yelland is particularly proud of the boardroom door. "Not only is it not square, it's not vertical, and it's a secret door from both sides," he says.
Inside the boardroom we see the reverse of the faceted wall, which is also clad in plywood. In order to test the strength of the freestanding bent stud wall without the help of an engineer, they tried lying it down and jumping on it first. The boardroom table was also made in-house, resting on a plywood plinth in the shape of a plus sign (the only computer-cut ply in the job) and cantilevering off steel beams welded by a staff member. The plus sign appears twice more in the fitout: a small version cast into the in situ concrete reception desk as minimal signage, and a giant-scaled one cut into the canyon to form one of the meeting areas.
Walking around a space like this reminds me of why we normally build straight walls. "So far only one person has hit their head on the fitout," Yelland assures me, "but they stepped backwards into it." When viewed from the lift lobby, there is no mistaking the sculptural timber-carved space as anything but a design office of some kind, which is why the practice left out any signage, apart from the word "plus" in lower case drawn by hand, about five centimetres long, directly onto the plywood. As Yelland puts it, "we don't need to tell anyone what we do anymore."
Products and materials
Walls

C/D grade plywood from MelBoards.
Doors

Custom-built secret doors.
Flooring

Polished concrete. Carpet tiles in boardroom and rubber tiles from Signature Floors.
Lighting

Downlights in reception, kitchen lights and Connect 30 glow wall to boardroom from Inlight. Glass Grande light to meeting room and foyer from Space Furniture. Pendants to entry and boardroom from About Space.
Furniture

Workstations are existing table tops and metal legs. Nano table in meeting room from Tait. Lounge in kitchen from Lounge Designer Furniture. Boardroom table and custom reception table, both with Staron bright white tabletop from Austaron, designed and built by Plus. Shelves on workstations and kitchen custom made from plywood, painted with Dulux. Meeting booth with Staron bright white tabletop and green moss carpet from CEC Carpets. Table tennis/ lunch table with custom top and existing metal legs from previous office workstation.
Kitchen

Oven, dishwasher and cooktop from Smeg. Refrigerator from Fisher & Paykel. TVs from Samsung. Plywood surface, stainless steel benchtop and overhead shelf. White matt tiles to splashback. Foosball table from Dynamic Billiards. Billi boiling and chilled water unit. Old chairs sanded, painted white.
Planters

Plant feature wall in plywood, steel mesh, terracotta pots, plants.
Credits
Director

Craig Yelland, Plus Architecture
Architect

Plus Architecture
Melbourne, Vic, Australia
Project Team

Millie Anderson, Virginia Barlow, Jack Carolane, Ben Tucker, Tim Clarke, Candice Ng, Stuart Telha, Jake Hughs
Consultants

Builder Plus Architecture
ESD Plus Architecture
Engineer Simpson Kotzman
Landscaping Plus Architecture
Lighting Plus Architecture
Project manager Plus Architecture

Site Details

Location Level 2, 448 St Kilda Road, Melbourne, Vic, Australia

Project Details

Status Built
Design, documentation 1 months
Construction 2 months
Category Interiors
Type Workplace

Client

Client name Plus Architecture
Website plusarchitecture.com.au

Source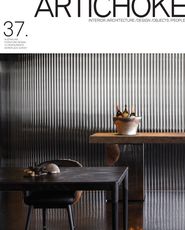 Project
Published online: 8 May 2012
Words: Tobias Horrocks
Images: Plus Architecture
Issue
Artichoke, December 2011
Related topics