Climate workstations
The Climate workplace range allows users to create a platform to suit them and their team. Customizable elements include desk shape, storage options, cable connectors and partitions that fit together easily and can be quickly reconfigured when the user is after a new look.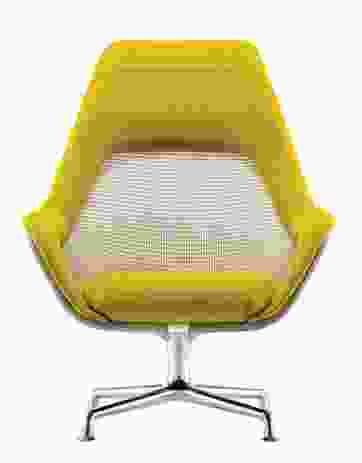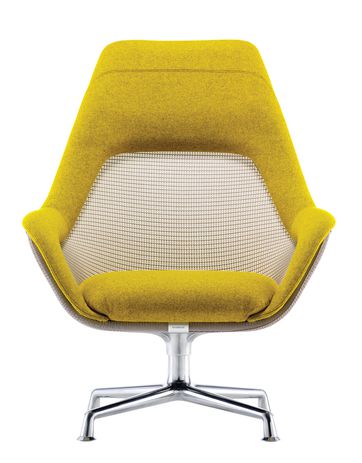 Schiavello
+61 3 9330 8888
schiavello.com
SW_1 seating
Designed for the creative set, the SW_1 conference chair enhances social connectivity, fosters collaboration and provides individuals with the freedom to change seating position while remaining engaged with the meeting at hand. Meetings just got a lot more comfortable.
Steelcase
+61 3 9670 1555
steelcase.com
Linea sliding door
Linea is a storage unit with sound-absorbing surfaces. The sliding doors and rear panels are made of perforated steel, laminated inside with special panels that minimize noise around the office. The crisp lines and clean white finish will fit in harmoniously with any office environment.
Planex
+61 3 8795 1100
planex.com.au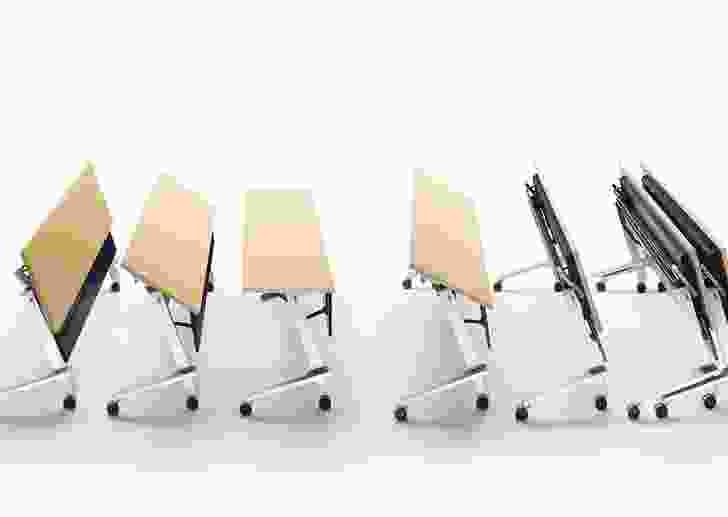 CTZ tilt-top table
These flip-top tables can be set up or stored away with a simple lever action. Designed in Japan by Axona Aichi, the CTZ table incorporates straight-line structural beauty with smooth operation. The leg stoppers can be set at different heights and grip the floor for stability. Hooks on each end keep bags off the floor.
Ke-Zu
+61 2 9669 1788
kezu.com.au
Eona modular table
Everything Old is New Again (EONA) is a modular table system with a sleek and timeless design, making it ideal for meeting rooms or training rooms. Manufactured from post-consumer recycled materials, EONA promotes flexibility, with legs that can be positioned at narrow or wide stances for various tables.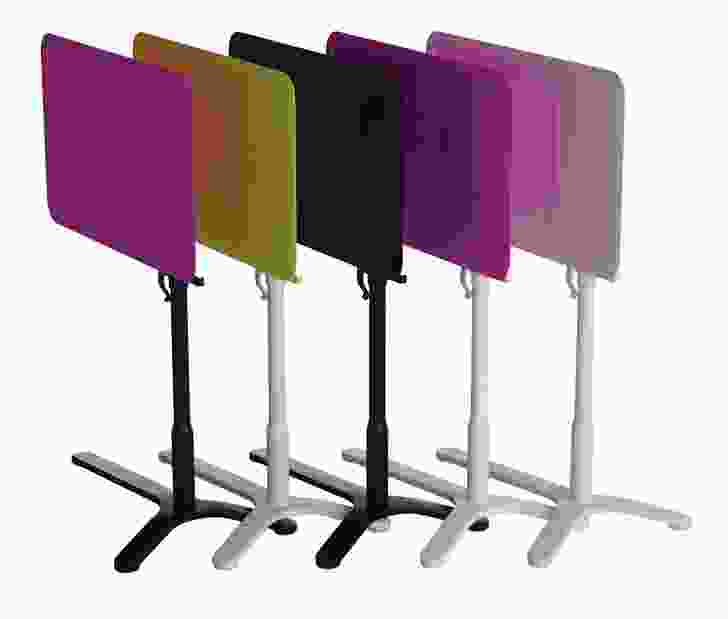 Thinking Ergonomix
+61 2 9726 7177
thinkingergonomix.com.au
Slide side table
The brightly coloured Slide side table creates a mini workstation wherever you need it, a simple desk the perfect size for a laptop or folder to sit on while an informal meeting takes place. Designed by Johannes Torpe Studios, the metal-topped table is available in white, black, hot pink or vibrant yellow.
Haworth
+61 3 8643 6300
haworth.com
Paradigm workstation
The Paradigm desk system makes it all about the user – it offers individual control over how you work, organize, interact and maintain comfort. Its look is bold and dynamic, built using recycled materials where possible. Plus, it's designed for disassembly to assist in recycling and reprocessing.
UCI
+61 3 8379 0251
uci.com.au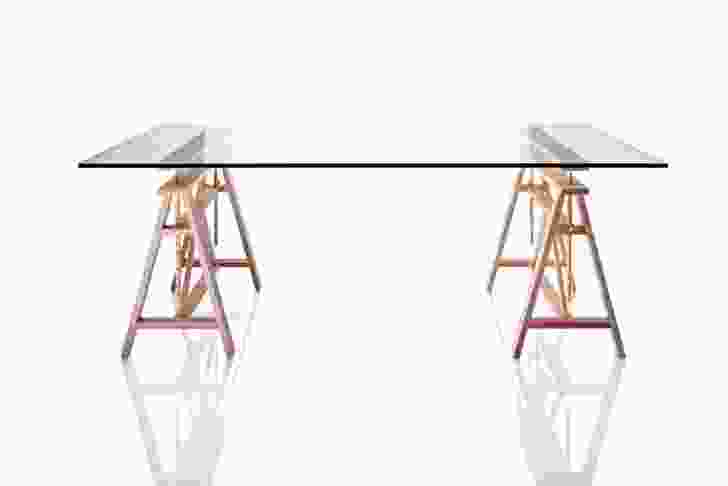 Teatro table
The Teatro table was originally designed in the 1980s by Marc Berthier and has been re-released by Magis. It is influenced by the drawing boards of artists and architects, reimagined as a functional work table, dinner table or console, made from solid beech. It is a quirky take on the trestle.
Corporate Culture
+61 2 9690 0077
corporateculture.com.au
Tua light
The folder-like shape of the Tua table lamp has a strong and corporate personality, which makes an instant statement on the desk. The light source nestles within the spine of the lamp, casting a distinctive halo of light. Designed by Marco Zito for Foscarini, the Tua is finished in lacquered aluminium.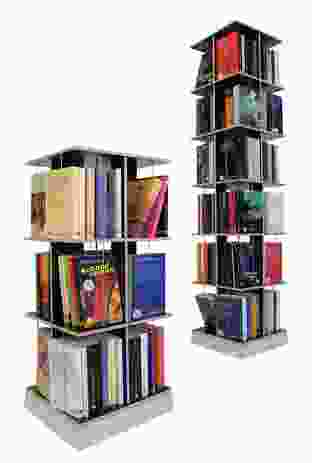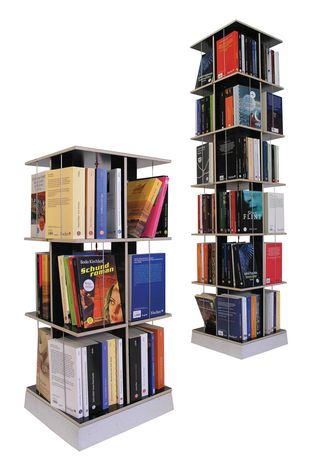 Space Furniture
+61 2 8339 7588
spacefurniture.com.au
Buchstabler book rack
This pivoting book rack is designed for smaller books, keeping reading material clearly arranged and easily accessible. The rack stands freely but securely and the height is adjustable – two levels makes it coffee table height, or seven levels for tower height. A cast concrete base keeps it steady.
Interstudio
1300 785 199
interstudio.com.au
Doride Terra Lamp
Designed by Karim Rashid, this floor lamp has an elegant silhouette, inspired by the stroke of a pen. The lamp rotates 350 degrees, allowing you to change the direction of light to suit conditions or task. Made from aluminium and steel, the polished black finish will stand the test of time.
Artemide
1300 135 709
artemide.com.au
Antenna workspaces
The Antenna workspaces range was designed by Masamichi Udagawa and Sigi Moeslinger of Antenna Design for Knoll. Recognizing the freedom and mobility workers seek, the range links open-plan, private office and collaborative spaces with a contemporary look. It includes desks, chairs and storage solutions.
Dedece
+61 2 9360 2722
dedece.com
Buzzispot 3D ottoman
New from Orgatec in Germany, the BuzziSpot 3D is a streamlined, cheerful ottoman that has hidden storage beneath its coloured jacket. This inner box is made of recycled potato flakes, while the jacket is made from 100-percent-recyclable nylon. It is strong enough to sit on and can improvize as a coffee table.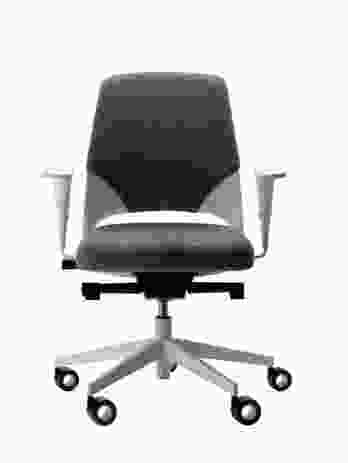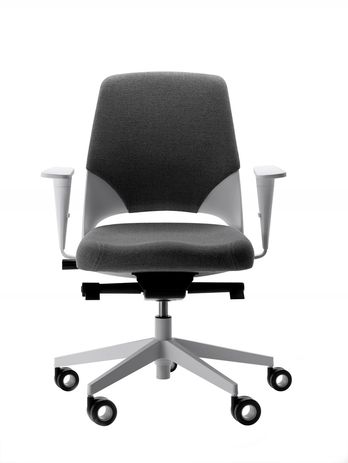 Zenith
1300 013 013
zenithinteriors.com.au
Arin chair
The Arin chair by Akaba has the most innovative mechanisms you need in an office chair, including tension regulation, gas elevation and adjustable seat and arm rests, all while looking polished and refined. The seat is available in polypropylene or it can be upholstered in fabric or leather.
Stylecraft
+61 3 9666 4300
stylecraft.com.au
Stan workstation
Australian designer and architect Anthony Kotarac has created the new Stan workstation for Iken. The design creates a balance between simplicity and presence. It was designed as a flexible addition for any office environment, available in multiple heights and widths.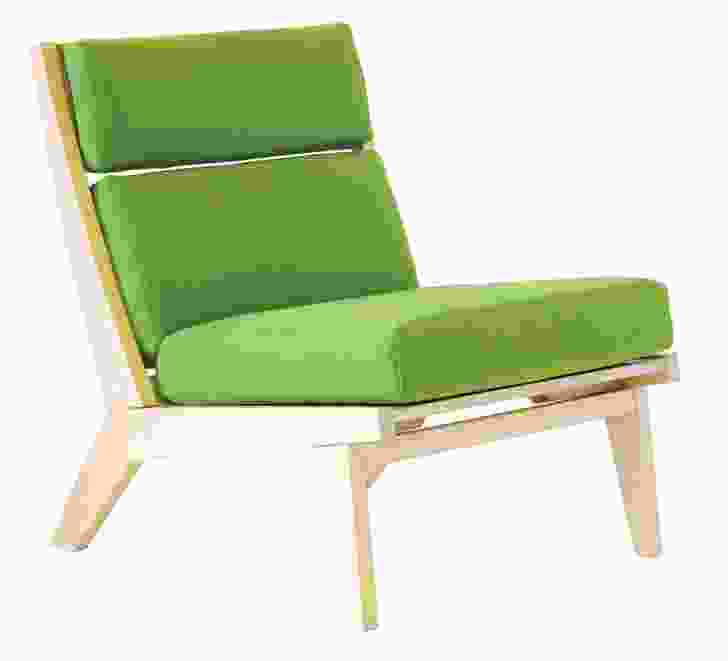 Iken
+61 3 9663 2736
iken.com.au
Deka collection
Deka's New Office collection includes a host of sustainable furniture designed and made in Australia, with a modest elegance and pure lines. Part of the collection is the Trans-form-it lounge chair, a collapsible, comfortable chair with removable upholstery – the perfect addition to a lobby area.
Deka Furniture
+61 7 3252 8133
dekafurniture.com.au
Related topics