A new office space for national medical recruitment company Skilled Medical has been crafted in a 1920s warehouse that was essentially taken apart and reassembled in a different order, according to the project's interior designer Donald Holt of Hola Projects. "There was a lot of excellent residual material there already," he says. "There's no need to ruin something that's perfectly good."
Today, the main workspace occupies the first floor of what was once a textile wholesale business, while parking and storage at ground level replace a former print workshop. A beautiful original Oregon-lined timber ceiling, concealed by a suspended acoustic ceiling, was a celebrated find by the client after acquiring the building. A simple brief called for the upgrade and preservation of the base building, provision for growth, a large conference room, utility, IT and several meeting spaces. The responding design is "clean, obvious and open," says Holt.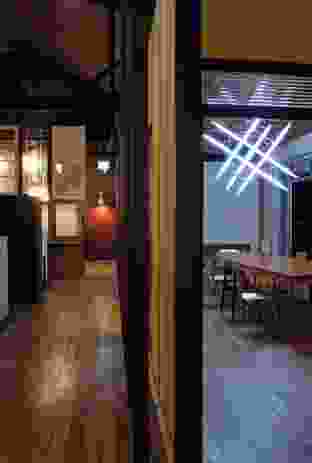 A boardroom opening onto decking flanks the western side, while the back of house is to the south, leaving a large workspace environment. All possible materials were salvaged and their reincarnation determined during planning. A feature wall dividing workspaces and behind-the-scenes spaces makes a dramatic application of doors from the previous fitout. Fluted glass sections have been carefully reclaimed and reworked in new timber framing for the meeting room and the boardroom walls, where an outrigger system provides structural support.
Workstations were created to suit the weight of the building and the general ambience of the space. High partition walls constructed from CNC-cut timber resolve power and data management and at the same time, retain the desired earthy, non high-tech aesthetic. An integrated hanging device for a large map of Australia within each station is a considered response to the workplace's need to regularly reference recruitment locations. Mid-level task lighting caps the partitions and bestows a change in scale against the high ceiling, to lend "a cocooned feeling in what could have been an alienating, big space," says Holt. Movable EchoPanel clad fin walls address the need for privacy and a focused space within a long bench system for each recruiter. They also allow for varying staff numbers.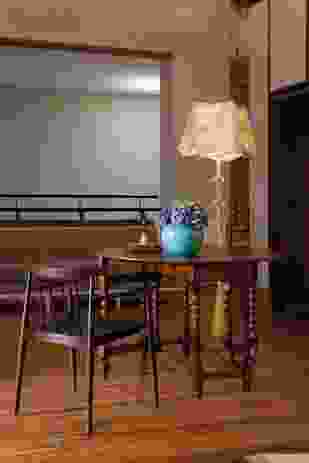 While Hola Projects doesn't subscribe to having a design style, Holt confesses to a proclivity for sculptural lighting and "thirsty materials" – those in a raw, unfinished or distressed state. "Good fixtures can take the level of everything up," he enthuses. Other examples include the selection of a contemporary Nur Artemide pendant for the owner's private meeting room, which also houses his favourite collectables and furniture. Prisma K-lites from Inlite illuminate the lobby and hallways, while making a big gesture in the kitchen is a Flos 265 wall light. Infusing a medical overtone with a touch of comic in the boardroom is a bespoke chandelier dubbed Dondelier, comprised of large lamps attached by silicon rubber straps.
Adding further soul to the Collingwood-based office is the local artisan custom-making of furniture and lighting, reusing timber from the original interior. According to Holt, the solution is part of the client's idiosyncracy. "This is something that's very rich, it's about people and humanity," of fondly collected elements and the repurposing of materials within a charming historic building that now breathes new life. The Skilled Medical office is a warm, cozy environment, where everyone and everything has become part of one family.
Design Statement

The creation of the new offices for Skilled Medical was the first time the organization had commissioned a custom-built space. The culture up to this point was one of collecting things together and making do. It was a family environment and everyone was invested in this cosy, yet professional, informality.
It was critical that the positive and inclusive nature of this "big family" be maintained and encouraged in the new space. The new environment was to embrace growth, provide a better-serviced environment for the employees and build on the brand.
The planning was simple. Conference and utility spaces flank the south and west, and the remaining large, open environment houses workspaces. The balance between a historical permanence of the volume and the normally ephemeral nature of modern workstations was a challenge. We chose to construct a CNC-cut timber spine that was high and architectural, rich and textured – and which bridged furniture scaled workspace and the six-plus-metre-high volume. These walls were capped with custom lighting and become the mid ground of the space.
The desk is a long bench system enabling expansion and contraction of the capacity along its length. Privacy is provided by EcoPanel-clad fin walls that could be moved to accommodate varying space requirements and to set the space standards.
High value was placed on material texture and provenance. Walls were made from doors salvaged from the previously demolished fitout. The fluted glass was salvaged and repurposed. The Oregon timbers found in the ceiling cavity were handed to joiners to make furniture and lighting. As much as possible came from the original building and the residue of its previous incarnations. The desire for local specificity was extended to the use of makers and craftspeople in the area. One of the joiners was a block away. Local artisans made feature lighting.

– Hola Projects
Products and materials
Walls and ceilings

Base building existing brickwork. Hard plaster. Existing Oregon-lined ceilings refurbished. Interior walls painted plasterboard on metal studs. Exposed studs stained and oiled with salvaged fluted glass. Wall clad in doors salvaged from the previous fitout.
Windows

Existing exterior windows retained. New exterior doors and windows as required to fill openings by Skyrange steel framed doors and windows. Galvanized Finish. Internal doors salvaged and repurposed.
Flooring

Oiled and polished existing timber floors. Tonight rugs, carpet from Super Tuft.
Lighting

Workstation lights from ISM Objects made from salvaged Oregon on site with design by Hola Projects. Conference lights are Nur from Artemide (pink filter), and Dondelier made by Tom Burless, design by Hola Projects. Kitchen light is Flos 265 Black from Euroluce. Lobby/hall Prisma K light wall from Inlite. In Reception, Dali lamp is courtesy Rob Campbell.
Furniture

Workstation and Life chair from Zenith. Storage from Planex and Schiavello. Spine walls by Alex Earl, design by Hola Projects. In reception, True chair from Holt Clifford Designers, Andrea World Smile from Living Edge and antique table. Conference furniture is various: found, salvaged and borrowed. Kitchen table made by Gamma Doura, design by Hola Projects. Kartell Lizz chairs.
Kitchen

Appliances from Smeg and Fisher & Paykel. Corian worktops. Joinery by Fine Form. Cabinet faces are Red Heart Eucalypt veneer from Abet Laminati. Splashbacks are Abet Laminati Tefor.
Bathroom

Floors tiles in gingham pattern Winkelman vitrified tile (three colours). Lighting is Europa wall mount from Masson For Light.
Credits
Design practice

Hola Projects
Abbotsford, Melbourne, Vic, Australia
Project Team

Donald Holt, Hilary Brand, Joey Law, Thomas Burless
Consultants

Builder Dale Martin
Lighting Medland Metropolis Melbourne

Site Details

Location 27 Keele Street, Collingwood, Melbourne, Vic, Australia
Site type Suburban

Project Details

Status Built
Design, documentation 3 months
Construction 12 months
Website http://www.holaprojects.com/project/corporate/skilled+medical/0
Category Interiors
Type Workplace

Client

Client name Skilled Medical
Website skilledmedical.com

Source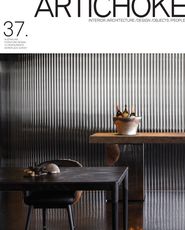 Issue
Artichoke, December 2011
Related topics