Report: Natalie Ward
Over the past decade there has been a fundamental shift in the nature of how, when and where we work. Increased connectivity, demographic change and economic uncertainty have transformed traditional business models and demanded a new approach to workplace design. To remain relevant, designers must now ask how we can anticipate the needs of our clients in a rapidly changing business environment.
This question formed the basis of the Design Speaks: Workplace/Worklife forum, held at the Museum of Sydney in August. Drawing on the combined expertise of three keynote speakers and panellists from diverse professional backgrounds, the symposium explored the core issues driving contemporary workplace design.
Monica Parker, head of workplace strategy at Morgan Lovell in London, opened the discussion with an address on "the economics of workplace wellbeing." With reference to extensive research in health and behavioural psychology, she outlined the economic benefits that stem from a workplace that promotes mental health and encourages physical activity. The presentation touched on the concept of activity-based working (ABW), in which employees choose from a variety of task-based spaces, from private cubicles to informal lounges and group meeting areas.
Supporters of ABW argue that such choice empowers employees, leading to greater job satis-faction and increased productivity. Others, including some in the forum audience, believe it is merely the latest in a long line of trends in workplace design. Perhaps Parker anticipated this when she clarified that such spaces are only successful when there is the culture in place to support it. "Its not just about the physical environment," she said. "We have got to focus on the culture."
The recently completed National Australia Bank (NAB) campus in Docklands demonstrates what can be achieved when innovative design is matched by a supportive business culture. James Calder, principal at Calder Consultants, and Roger Macmorran, project director at NAB, provided an overview of the project in the first panel discussion. The Woods Bagot-designed building embodies many of the wellbeing principles raised by Parker, with internal micro-climates encour-aging movement between different workspaces.
Bernard Salt, partner and head of KPMG's demographics advisory group, provided a highly entertaining insight into the demographic trends that will shape the Australian workforce over the next twenty years. Generational change, increased global competition and greater alignment with Asia will lead to major transformations across a range of industries. Understanding these population trends will allow us to create adaptable workspaces that can accommodate future changes in business, technology and culture.
Demographic change will also influence where we work. Future generations will be less willing to commute long distances, instead preferring to live and work in the same area. Salt believes this will lead to the fragmentation of capital cities, with companies establishing satellite offices in regional centres outside the CBD. "The idea of not necessarily working from home, but working near home is the trend of the future," he said.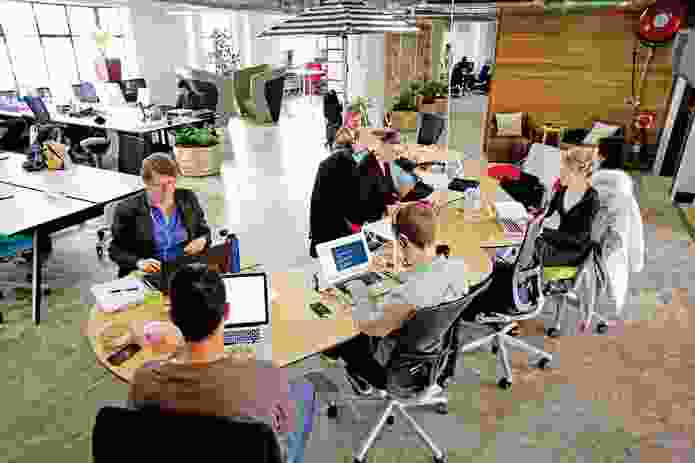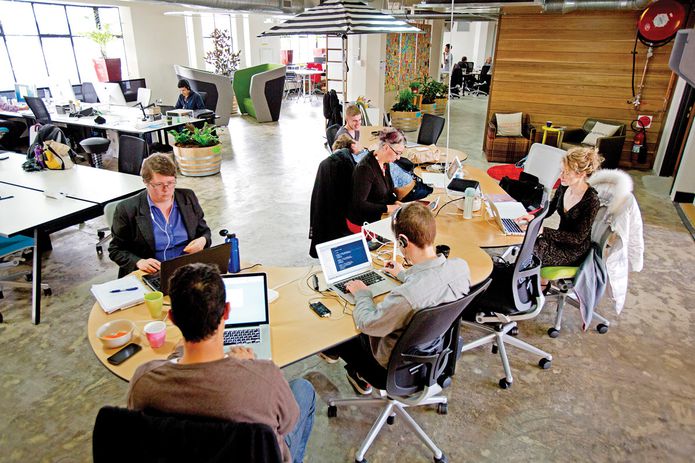 This is reflected in the growing number of independent contractors joining co-working communities such as The Hub, an international network of shared work environments. Steve Coster, head of knowledge and sustainability at Hassell, discussed the rise of co-working with Hub Australia CEO Brad Krauskopf in the second panel discussion. Krauskopf describes co-working as "bringing communities together around a space." Hub members include freelancers, small businesses and not-for-profit organizations, who all benefit from the communal workspace, networking opportunities and social interaction that co-working provides.
Oliver Marlow, creative director of UK-based studio Tilt, provided a visual counterpoint to the previous big picture discussions with a presentation of recent "co-design" projects. Drawing on his experience as design director at The Hub, Marlow extends co-working's collaborative approach to the design process itself. Tilt actively involves clients in the creation of "unfinished" spaces that are only completed through occupation. "You build in the idea that it is an adaptable and customizable space, that is finished by the people who use it," Marlow said.
The final panel discussion examined the increasing need for flexibility in workplace design. Rosemary Kirkby, principal of Rosemary Kirkby and Associates, spoke about "the theatre of the workplace," in which the physical work environment provides an elastic setting for the constantly changing world of business. Parallels were drawn with the education sector, where new learning models are challenging conventional classroom design. Denice Scala, principal of MLC School, discussed the current redesign of the secondary school in association with architecture firm BVN (now BVN Donovan Hill). The new campus will provide a collaborative learning environment inspired by Loris Malaguzzi's philosophy that the environment is your third teacher, after yourself and those around you.
This correlation between design and culture provides the key to the future of workplace design. Designers need to understand how changing business conditions will affect their clients. At the same time, clients must provide a supportive culture that encourages innovative design. Strong leadership is needed from both the design and business communities if we are to keep pace with the shifting technological and economic landscape.
Designing from the inside out:
James Calder and Roger Macmorran discuss NAB Docklands
James Calder : It's clearly an unusual building by Woods Bagot … it's one of the first buildings I've worked on that is designed from the inside out. We've thrown around that term but typically buildings still look the same on the outside. This building obviously looks different. The key to it was the engagement of leadership teams, the CEO and others around what [the organization wanted for the future] … what we tried to create was a Federation Square … a public space under a building. So unlike other bank buildings … that close off … this bank wanted people to come in and feel part of the community.
… We certainly analyzed the way teams were working and one of the key things we found out was that it was about the team. How do you get these people that are buzzing around from meetings to actually come together at certain points [when] the current workplace just doesn't support it? We spent a lot of time with the leadership around … key ideas. Authenticity … It had to be real and they wanted to be quiet about it. This idea of real-time working. When we looked at say the meeting room utilization, it's terrible, and yet everyone said, "Give us more meeting rooms." Every meeting we ran I think started fifteen minutes late. You multiply that by thousands of people and it's highly inefficient.
Roger Macmorran : The other thing that this building was all about … was co-location. So I'm sure you can imagine NAB is an exceedingly multilayered and complex organization. There's forty thousand people. Historically, the business has been very sidled. Different businesses work in different buildings and [these buildings] become their little ivory towers. What we said to ourselves early in 2012 was, "How do we use the project as a catalyst to really address that?" and … we got thirty executive general managers in the room, gave them a large whiteboard and said, "Here's a blank slate. Imagine how you would restructure this business if you were starting from scratch." A very uncomfortable hour ensued, when nobody did or said anything, and slowly but surely that unfolded and three months later we had a revised co-location strategy … which means that over these next five months we're not just moving the six thousand people out of the existing buildings into 700 Bourke Street, we're moving about thirteen thousand people around Melbourne, basically restructuring the entire business.
James : Going back to … flexibility and culture … so again we've got this great workspace but how do we give people that empowerment? It's all about giving people choice to work in the way that they want and the only way you do that is authentically through leadership … It's about people feeling genuinely empowered and entrusted to work the way they want and the only way you do that is authentically through leadership … It's about people feeling genuinely empowered and entrusted to work the way they want … and we believe having this [in the workplace] creates happy people.
Activating communities:
Brad Krauskopf, Steve Coster and Bernard Salt discuss the Hub concept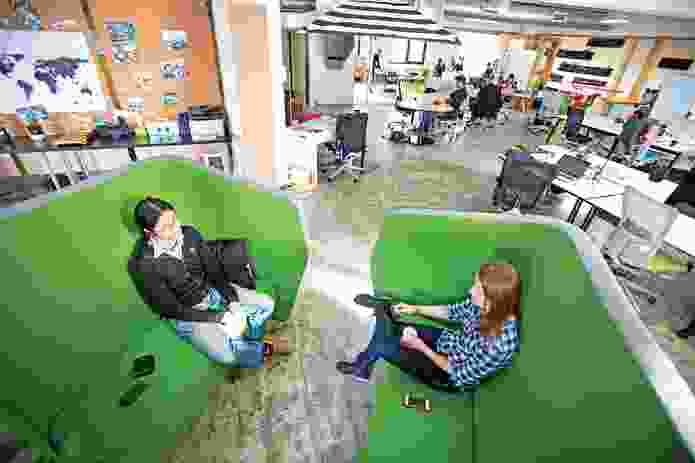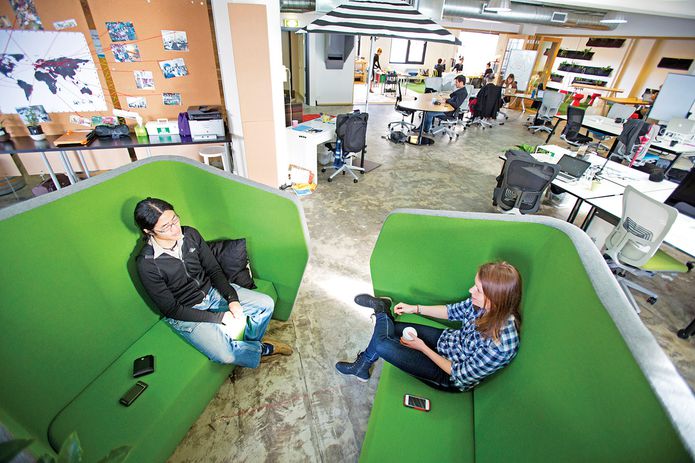 Brad Krauskopf: [The Hub concept] activates communities around spaces. Over the last several years we've built Hub communities, starting out with Hub Melbourne and then Hub Sydney and now Hub Adelaide. Through building that community we've now got one thousand members. They are 80 percent small businesses of one to five people, and 20 percent very large businesses, NAB included. They all come together; every day about a couple of hundred people come into the Hub and they are working on their projects. They might be there for an hour, they might be there for a whole day. Importantly, half of our members do not come to the Hub to work, they only come to the Hub to learn.
The kind of community that we've been building at the Hub is a collaborative learning community. I certainly aspire that in a couple of year's time when we [are] introduced, we won't even mention that it's a "co-working space," and we call it "a collaborative learning community." A worker in the future, if they're not learning in the role they're in, they'll just go and find a new job because they're going to have this urge and this constant need to be upskilling in order to remain relevant for the high-earning jobs and the jobs that are being created.
With the Hub, we sell memberships based on the amount of time that people use the space. I think there's a really interesting challenge there [about] moving from a leasing model of twenty years … [to moving to a leasing model that is] in units of hours. That's going to be really interesting [in how] that challenges the current leasing models.
I guess the final thing about the Hub that I'd like to mention is that it's the community. People want to belong to something. They don't come into the Hub to work; they come in to be a part of something that's bigger than their project.
Steve Coster: Bernard, do you see this sort of community that's emerging … where a lot of people are losing their position and recreating themselves in a portfolio as an independent consultant and looking for a community to work with?
Bernard Salt: Prior to the 2001 Census everyone was talking about working from home … it has not changed. It comes down to the undeniable fact that working from home is an option if you're working for a corporate and you want to stay at home and write a report, but as a way of life you feel isolated … I've never had a real job, I've always been a consultant. The only way you can survive as a consultant is by selling yourself. I have to sell myself every single day … I need to be out, floating, moving in a place like the Hub, in a place like this, continually pitching and selling. I think that's the model going forward.
Designing for the workforce of the future:
Rosemary Kirkby and Denice Scala discuss MLC School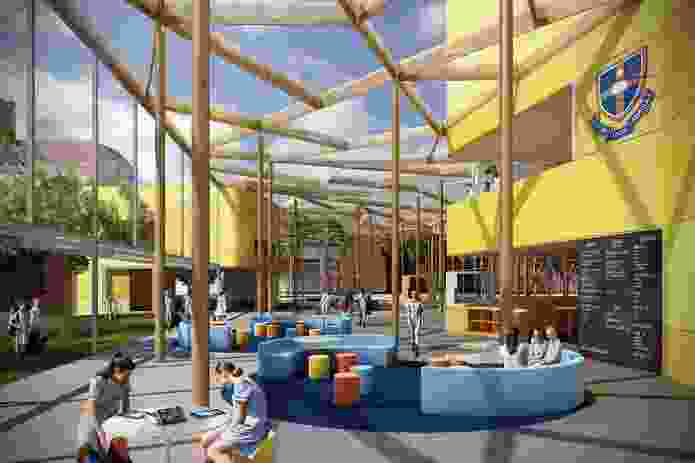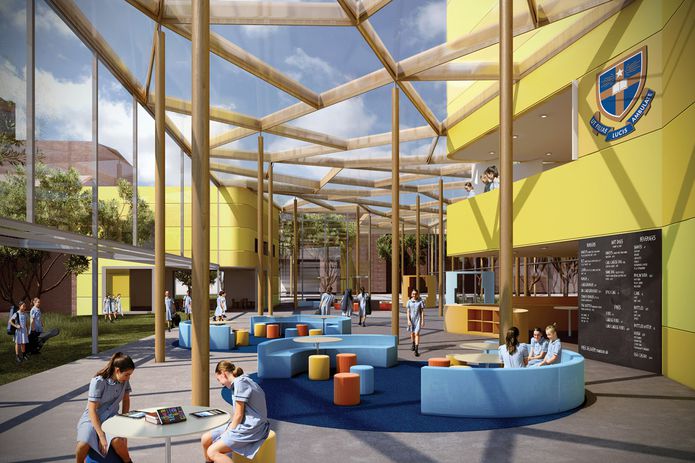 Rosemary Kirkby: One of the things that I feel passionate about is how we actually learn from other sectors and other disciplines. And I think for those of us who work in the commercial sphere we have an enormous amount to learn now from the education sector. This issue of learning is absolutely critical.
Denice Scala: My passion is how you work with youngsters, in particular I work with girls, as I work in an all-girls school. I'm principal of MLC School in Sydney. I've been principal now of the school since I was twenty-nine years old … and I've always been passionate about the kind of learning that we can offer that's truly engaging. That's powerful learning. That takes people, the young women that I work with, on a transformational journey.
Our mission statement talks about having the girls as fearless thinkers, which is a bold mission for a school. So fearless thinkers with moral courage and compassion [who become] the agents of change in their own life and the lives of others.
Having had a junior school that was redesigned along these constructs we will soon, in two years' time, have the first cohort of students to come into a very traditional secondary school. Hence the work that's been going on for the last three years with [BVN Donovan Hill], the architects, to work through a conversation with all of the students in the school and with all of the staff about what it is we need to create the learning environment that creates a home for the mind – a sense that students have ownership of their space. We've been a laptop school for over sixteen years so it's a no-brainer for MLC to be talking about technology … The girls bring their own devices; we don't ban anything. We work and we educate along with them and we learn with them. And so we are in that process of designing a space, a campus for, really, a school of the future.
Rosemary: Let's talk about models of learning and what we should learn in the corporate sector.
Denice: So the model of learning that we use in our junior school is based on the Italian Loris Mala-guzzi's model, that the environment is a third teacher. So you yourself are your first teacher and anybody else that you'd like to bring into your environment is your second teacher and the environment you're in that you create and help to create is the third teacher.
We've learnt a lot from working with our teachers because we set up a prototype space to practise what we're going to do with our masterplan when we redesigned our senior school campus. And what we literally did was take some very cellular block classrooms on a really tight budget and over a three-week period completely changed it, including the language. The sense in schools is you know that you have a bell that tells you when you eat and [when] you do something else. [This is] something we're also challenging … So it's a domestication of schooling. So getting back to the real reason that a school exists is vital to understand because otherwise soon they won't [exist].
Source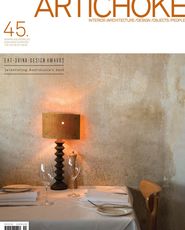 Issue
Artichoke, December 2013
Related topics