Early works are under way for Melbourne's latest inner-city, multi-storey school.
Fishermans Bend Secondary School (an interim name), is a four-storey "vertical" school catering to 1,100 students, designed by Billard Leece Partnership.
Its architectural language and materials have been inspired by the Port Melbourne area, including its proximity to the ocean, industrial history, and local maritime infrastructure.
"Sand dune formations present in the area prior to European settlement are depicted in the material treatments on the south and east facades, while the colour palette of the metal facade panels references the local shipping container yards," a design statement reads.
The Fishermans Bend school follows a number of other high-rise schools that have been built in Melbourne's inner suburbs in recent years, including the nearby South Melbourne Primary School by Hayball and Gray Puksand's Prahran High School and Docklands Primary School, the latter of which topped out this month.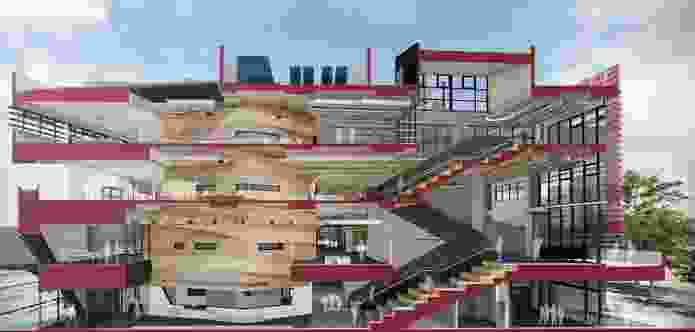 The Victorian School Building Authority said the design of Fishermans Bend Secondary had been informed by lessons learned from the earlier vertical school projects, along with community and stakeholder consultation.
A focus for the school is STEAM (science, technology, engineering, arts and maths), and it will feature "state-of-the-art" spaces including a robotics workshop and fabrication lab intended to "expose students to high-tech career pathways."
Environmental and sustainable design initiatives such as food production gardens and rainwater collection will aim to enhance the quality of the school environment while also teaching students about environmental sustainability.
Fishermans Bend is subject to massive urban renewal and by 2050 it is expected to be home to around 80,000 residents.
At a sod turning ceremony on 16 January, education minister James Merlino said, "I'm excited that the community's vision for a Fishermans Bend secondary school is now becoming a reality and students will get to attend a modern and innovative school with first-rate facilities."
The school is scheduled to open for the first term of 2022.
Related topics