Australian prefab architecture practice Archiblox has made what they believe to be the world's first carbon positive prefabricated house. The house is on display at City Square in Melbourne, 8–15 February, 2015, and is part of The New Joneses and the Sustainable Living Festival.
Architect Bill McCorkell and builder David Martin, directors of Archiblox, developed the 75-square-metre, single-bedroom house using a range of passive design principles as well as sustainable materials and technologies. This has allowed the design of the house to achieve less than zero carbon emissions, according to its Life Cycle Assessment, which means a net positive for the environment. In essence, Archiblox expects the house to produce more energy on site, than the building requires to operate.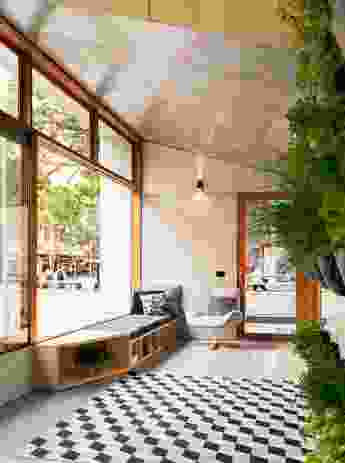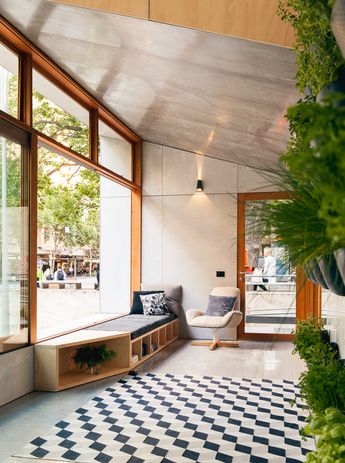 The prefabricated house is designed to open out to the north with floor-to-ceiling windows, while the south side is designed to be buried into an earth berm wall. A conservatory separates the bedroom and living areas of the house from the external environment. This arrangement allows the house to take full advantage of the northern sun, which passively heats the internal air in winter, while the conservatory acts as a buffer against the hot summer sun, which is also shaded by a sliding green wall (intended for growing herbs).
The earth berm wall and green roof helps to insulate the house against heat loss in winter. In summer, this feature is combined with cooling tubes, installed underground, to draw cool air in from the south, ventilating the space. The air is then purged through clerestory windows on the north side of the house. When closed, the house is fully airtight with double-glazed windows that reduce heat loss and improves sound protection.
All the materials, appliances and fittings used in the construction of the house are sustainably graded and free of formaldehyde and VOCs. The house uses solar power, which contributes back into the grid, and all water is recycled. Internally, clever joinery contributes to efficient use of the limited space.
In the Life Cycle Assessment of the design, which takes into account the carbon emissions of the materials and building operation, Archiblox calculated a total carbon saving of 659kgCO2e per occupant, per year. The building is expected to emit 1,016 tCO2e less than the average house, of a similar size and function, over its life span – equivalent to over 6,000 native trees planted or almost 300 cars taken off the road.
After its stint in the centre of Melbourne, the house will be permanently installed at David Martin's property in Inverloch, where its claims to be carbon positive will be tested and measured in an as-built condition over the next twenty-four months.
Related topics