Building Design has revealed its 2016 list of the world's top 100 architecture firms, ranked by the number of fee-earning architects they employ. Building Design, a weekly architectural newspaper in the UK, surveyed 1,350 architecture practices across the global to develop its list, the World Architecture 100 (WA100).
In 2016, five Australian practices made the top 100. Woods Bagot, once again, leads the charge in sixth place, up one from 2016, followed by Cox Architecture (44, up from 45 in 2015), Bates Smart (57), Buchan Group (58, up from 60 in 2015), and GHD Woodhead (90).
Some noticeable absentees were three Australian top 100-listers from 2015: HBO+EMTB (43) Thomson Adsett (95) and Hayball (99).
In the Australasian region, Australian practices dominated the top ten, which included Woods Bagot, Cox Architecture, Buchan Group, Bates Smart, GHD Woodhead, Hayball and ThomsonAdsett. Of the non-Australian practices in the region, Jacobs (USA) ranked fourth, HDR (USA) ranked seventh and Warren and Mahoney (New Zealand) ranked eighth.
On the world stage, US practice Gensler broke two WA100 records to regain pole position after losing it to engineering consultancy Aecom in 2015. Gensler is both the world's largest practice, employing 2,299 architects, and the highest earning, turning over $1 billion annually. In third place was Japanese practice Nikken Sekkei, and two US practices Perkins+Will and HDR rounded out the top five.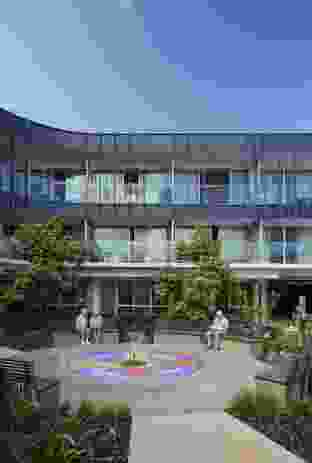 Breaking down by market sector, Australia's top performer was Thomson Adsett, which for the second year in a row came in at number two in Elderly Living, while Bates Smart was placed ninth in the same sector. Woods Bagot made the top 10 in several sectors including Residential (three, up from nine in 2015), Offices (seven, same as 2015) and Retail (seven, up from nine in 2015). Buchan Group claimed third in Retail and Cox Architecture is placed tenth in Culture.
Globally, the survey reported restrained growth across the world's top ten practices, which added ten percent more architects to their ranks (down from 16 percent in 2015). Despite the slower growth in human capital, growth in turnover for the top ten practices doubled from 2015 at 23 percent.
Australia has surged ahead in the survey of countries offering the most growth potential, ranking fifth with six percent, up from ninth in 2015, behind China (20.5 percent), USA (19.5 percent), UK (14 percent) and India (10 percent).
The full report can be purchased from BDonline.