Reflecting its role as the global leader in the development and manufacture of hearing implants, Cochlear Limited recently opened a 24,000-square-metre flagship in Sydney's north, with architecture by Toland Architectural Design Partners and interiors by Geyer. Since Cochlear was founded in 1981 in Australia, more than two hundred thousand people in one hundred countries have received Cochlear implants.
The organization has been awarded for many things, including outstanding research, development and product design but, until recently, was located in a building that did not properly reflect the company's ideology, global position or future plans. "It was built in the 1970s," laughs Jamie Newman, facilities manager at Cochlear. "There are a lot of walls, but not a lot of windows."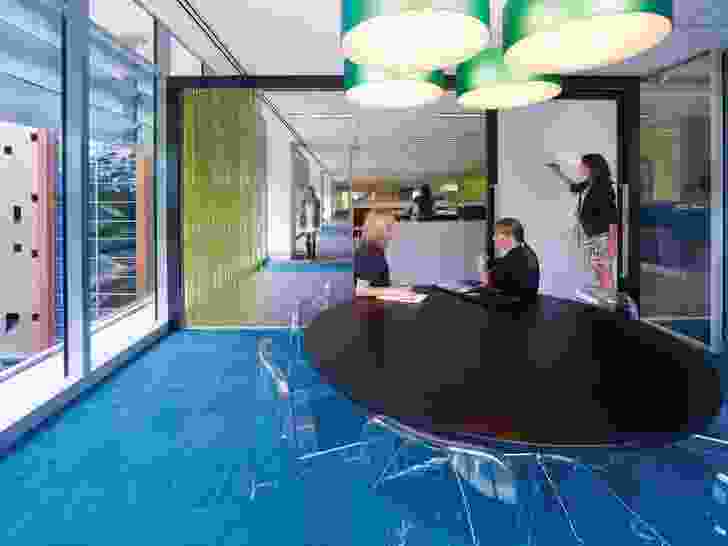 The first step was to engage interior design consultancy Geyer to develop a full workplace strategy, identifying the requirements of the project, potential locations and ways in which it could sustain and progress Cochlear's growth in the marketplace. This led to the selection of a site in a developing quarter of the Macquarie University campus in Sydney. The site gives Cochlear anchor tenant status in what will eventually become a "hearing precinct" linking academia, business and the medical fraternity. Toland Architectural Design Partners then won the contract for the project, "based on a sensory approach," says Toland's project architect Duncan Barnett. "For Cochlear, who are about hearing, it was a lovely emotional connection back to the brief."
The building houses all aspects of Cochlear's business, from communications and marketing through to scientific research, development and manufacture of the hearing implants. These implants are made by hand in specialized "clean room" environments, which are "more sterile than a surgery in a hospital," says Duncan Barnett. Yet these spaces are far from dark and cloistered. They've been designed to provide staff with a welcome abundance of natural light and a strong visual connection to surrounding leafy, green areas.
Throughout, Geyer has used the concept of soundwaves as a unifying theme. "Soundwaves occur in circular patterns or linear patterns," says Laurie Aznavoorian, Geyer's workplace/innovation leader. "There are circular patterns on the ground floor and as you go up through the building they emanate out, then they move into more of a linear pattern." This concept is brought to life in the bespoke circular lights in the foyer, in the radial floor details and on a larger scale in the meeting and breakout spaces. Colours on each level are also a gesture to the colour spectrum of soundwaves.
The client, architect and interior designers have created a building and an interior that successfully express the concept of longevity and trust while also giving transient visitors and permanent staff an open, harmonious space to experience.
Products and materials
Walls

EchoPanel from Woven Image. Halifax Vogel. Baresque wallpaper. Autex Vertiface acoustic panels. Knoll and Woven Image fabric panels.
Flooring

Carpet tiles from InterfaceFLOR. Rugs by Designer Rugs. Forbo Marmoleum. Tarkett granite.
Lighting

Artemide, Eagle Lighting, ECC Lighting, JSB Lighting, Yellow Goat, Zumtobel.
Furniture

Corporate Culture, Haworth, Herman Miller, Interstudio, KFive, Korban Flaubert, Living Edge, Schamburg + Alvisse, Schiavello, Space, Stylecraft, Wilkhahn, Work Arena, Vitra.
Credits
Design practice

Geyer
Australia
Project Team

Laurie Aznavoorian, Cathy Jameson, Rachel Seale, Hoa Huang, Graeme Bowie, Ivana Nestoroski, Mukesh Mavji, Michele Di Giorgio
Consultants

Contractor Watpac Sydney
ESD Hyder Consulting
Project manager The Peloton Group
Quantity surveyor Rider Levett Bucknall Sydney
Services Hyder Consulting
Structural engineer Paul Davis Rajalingam Consulting Engineers
Technology consultant Roberts Weaver Group

Site Details

Location 1 University Avenue, Macquarie University, Sydney, NSW, Australia
Site type Urban

Project Details

Status Built
Category Health, Interiors
Type Workplace

Client

Client name Cochlear Global Headquarters
Website cochlear.com/

Source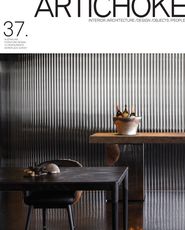 Issue
Artichoke, December 2011
Related topics