The organizers: Jess Miley, Sean McEntee and Samuel Jeyaseelan
In developing a theme for a congress two years before its delivery, there is a necessary negotiation between attaching to issues too current and perhaps fleeting, or conversely too broad and recurring. "Architecture in crisis" seemed readily suitable in accommodating these polar constraints, with its various associations with humanitarian need, disaster relief, environmental impact and the identity of the profession of architecture itself. That nexus between specific and vague realized, there was of course much activity in the intervening years to ensure the pressing relevance of engaging with such themes.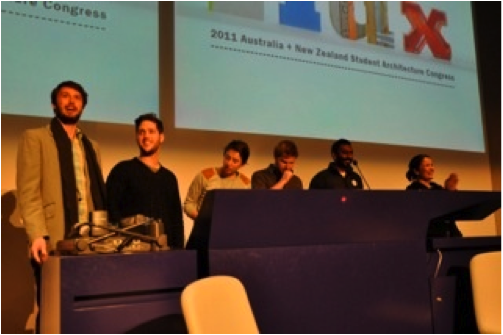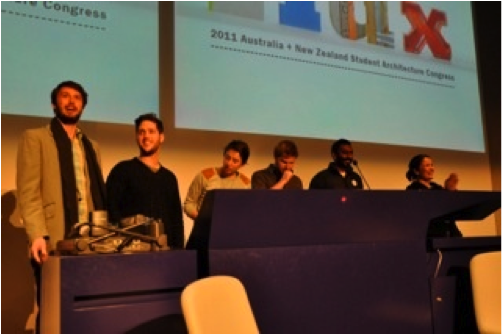 The three international keynote speakers we invited to Flux reflect this broad range of issues relating to the crises we face. Nathaniel Corum from Architecture for Humanity presented the huge body of work that the group is doing around the world in relation to disaster response and humanitarian aid. Charles Holland of FAT Architecture presented not only his practice's response to the changing role and perception of architects, but also his own views on some of the holes that architecture as a profession has dug for itself. Ken Yeang presented his office's work in developing large-scale buildings that seek not only to work efficiently and sustainably, but to go even further, providing rehabilitation for the local ecology.
We were also incredibly fortunate to have a panel from the International Network of Indigenous Architects (INIA) assembled at Flux, with rich discussion on the position of indigenous culture in the profession, and specifically within schools of architecture. A selection of Australian presenters provided further discerning commentary and interpretation on aspects of "architecture in crisis." Examples include Lara Calder's insights into developing suitable architecture for our aging population, Paul Pholeros's work in creating better health outcomes for residents through improvements to existing housing, Ben Hewett's views as a point of interface for our profession with all levels of government, Andrew Maynard's often comic look at how the emerging architect can survive in the big wide world, and Melonie Bayl-Smith's findings from her research into the education of architects which, as with many sessions, activated the audience into passionate discussion beyond the limits of the session.
By far the greatest controversy so far has been our decision to partner with the Australian Institute of Architects in organizing Flux. The perception that involving the Institute has and will stifle activism among the student body and radical dynamism at congress suggests an even greater level of professional crisis than we might have imagined. That many are suggesting that the representative body for architects in Australia is unable to effectively support an event like this, or that our autonomy as creative directors is compromised, shows that we have much to do in Australia to establish what our profession is about. The reality is that criticism of the "smooth running" of what might otherwise be a happily chaotic affair should be directed to us as creative directors. It is not a by-product of our partnership with the institute, but a choice on our part as to how we felt the congress should be run.
We look forward to the ongoing development of the student congress as a means of bringing new life to the profession and practice of architecture in Australia.
The speaker: Melonie Bayl-Smith
Two years in the making, the Flux congress presented a broad range of local and international architects whose thinking and projects were connected by the core idea of "crisis," and the changes that emanate from the crises in our fragile world. What made the concept of "flux" an intriguing choice was that on the face of it, the topic didn't appear to readily tap into the idealism, optimism and dynamism one would traditionally expect in abundance at student gatherings. Further, by virtue of its very breadth and depth, the concept of "flux" could so easily unravel, and thereby produce a lack of cohesion between the varied subject matter that might be proposed as a response to ideas surrounding "crisis."
However, regardless of the challenges posed by the topic, Flux resulted in a series of presentations and conversations that resonated strongly with the student audience and speakers alike. From my viewpoint as a practitioner, educator and long-time student mentor, it was also encouraging that the potential "woe is us" conversation was averted, with inspiring work and provocative ideas punctuating the three days of keynote speakers and streamed sessions. Enthusiasm and inquisitiveness often emerged from the students in equal proportion, and genuine interest underlined the many thoughtfully placed questions that were taken from the floor. In this writer's humble opinion, the organizers of the next National Architecture Conference would be well advised to return to this level of grassroots engagement with their audience.
Straddling issues relating to environmentalism, Indigenous peoples, social sustainability, aging populations, architectural education, governments, procurement and urban design, it was clear that for the students attending there was no fear in tackling the hard questions facing our profession and community. Perhaps this was from a position of naivety and idealism, but the willingness to engage with the range of subject matter proved that the profession needs to engage actively and openly with architecture students in this country.
Upon reflection, it is quite possible that Flux, or certainly the material presented at the congress, was a missed opportunity for the profession at large, as I believe that the subject matter, energy and thinking evident would have stretched and challenged practitioners and academics alike. It is my sincere hope that the students who did attend take their evident optimism, dynamism – and, yes, idealism – back into their universities, communities and, in the future, into the architectural profession.
The student: Jessica King
The recent student architecture congress held in Adelaide could not have come at a better time for me. Since graduating with a Bachelor of Environments (Architecture) last year, I have found it difficult to maintain enthusiasm for what I have studied. I'll be the first to admit that I have slowly crept away from the world of architecture. Several experiences catalysed this for me, one of which still affects me to this day. After a series of all-nighters at uni, a best friend was involved in a serious car accident on his way home as a direct result of the pressure we had placed on ourselves to meet a submission. While he is now making an impressive recovery, the event changed his life and mine. During the following semester, a negative experience with a tutor left me jaded. I felt trapped in an environment where competition rules over collaboration. My passion for architecture remained hidden somewhere, but my confidence to pursue a career in the field had diminished.
Just as I was, many students are consumed by this university all-nighter mentality. We are naturally obsessive about our work, and a level of this is definitely essential for a future in the field, but not to the point where our health and safety becomes compromised. Students shouldn't be afraid to step away from this atmosphere, and to conserve energy and enthusiasm to attend these congresses. If we allow ourselves, the experience can be life restoring.
One inspiration at Flux was the booklet Congress put together by Byron Kinnaird and Barnaby Bennett, outlining the history of the student congress from 1961 to 2011. It sparked conversation about student activism and shed light on the reality that generations of students have been repeating the same innovations and mistakes. It gave us a wake-up call: we're not actually being as cutting edge as we think we are. We have lost confidence in our problem-solving skills. This could have been addressed during Flux, had there been a more flexible schedule: more flexibility would have allowed for more opportunities for open dialogue to unpack thoughts that arose during the sessions.
Something that was very apparent by the end was that we students want to talk, and we want to be heard – this is the valuable purpose of the congress, and the speakers (reliving their student days?) appear to get as much out of the congress as the students do. So thank you to Adelaide for restoring my confidence, and onwards to Newcastle 2013.
The future host: Newcastle
Read about plans for the next congress in Newcastle by one of the organizers, Joe Larkings.
Editor's note: For clarification, The Australia and New Zealand Student Architecture Congress has been running, generally biennially, since 1962. The organizers' roles and responsibilities are primarily focused on the themes, content and style of the event, and they have final responsibility for direction of the congress. Under present arrangements, the formal and operational aspects are delivered by the Australian Institute of Architects' national events team on behalf of the organizers. A congress coordinating committee consisting of the organizer(s), representatives from the partnerships and events team and academic advisers oversees the operational delivery of the congress. The Institute does not contribute in any way to the creative direction of the event.
Source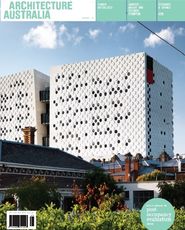 Issue
Architecture Australia, September 2011
Related topics