Design statement
In the granite belt country of the NSW–Queensland border, the Xanthorrhoea 1 building is the result of a research project by Cox Architects (Qld) into the threat of bushfire to Australian rural and urban areas. The project culminated in the construction of this full-size prototype designed to resist such attacks. While it is photographed for this story with the Rural Fire Brigade testing its suitablility as an emergency fire station, it is not designed for any one purpose in particular, but for the possibility of many. Especially in remote areas, the structural methods could work for civic buildlings such as schools and police stations, or residential dwellings.
Commencing in 2005, the theoretical aspects of the study confirmed that standard construction techniques were no longer sustainable in threatened areas due to the consistent failure of these building types. It also found there was a vast waste of resources and potentially serious threat to life to continue on the conventional path.
The study also found there was no construction system available that could withstand the full effects of Australian bush fires, and, to overcome the problem, a new construction system was developed.
The system of constructing the building envelope was patented prior to the devastating Victorian bush fires of February 2009, and construction had commenced by then.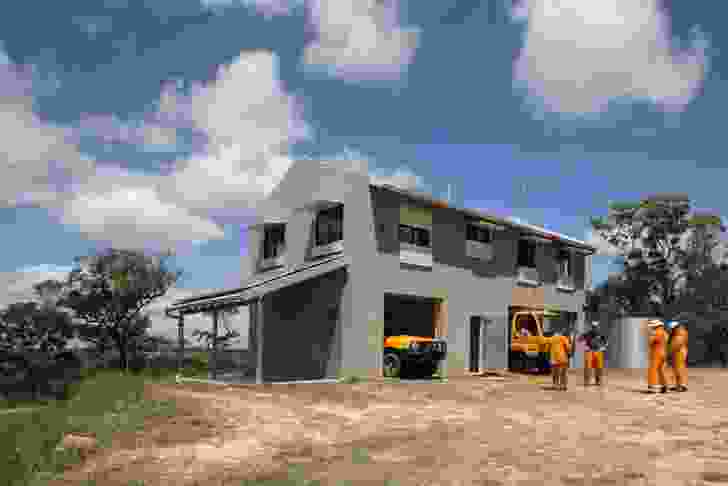 Xanthorrhoea 1 is designed to withstand the most hazardous category of bush fire and has been assessed by an independent authority to meet (or exceed) this standard. Its construction system offers improvements that provide a high resistance to cyclones and floods – some of the other weather effects associated with global warming.
Additional benefits include very low maintenance, high thermal insulation, very high durability and security – all of which enhance suitability for remote areas. The combined effects also reduce energy consumption.
A unique feature of the system is the integration of its roof and walls. Rather than fixing the insulation under the roof, the system forms a structural fire-insulating shell wrapping the entire building in a protective layer, like icing on a cake. Being integral with the walls makes the roof far stronger than standard building practice.
Windows are protected by internationally patented fire-resisting awnings that are part of the construction system and assist in reducing energy consumption of the building. All the services are independent from town supply: water, sewerage (in transpiration pits), electricity and data remain unaffected in a fire, as is necessary in remote rural locations.
The construction system demonstrates that it is suitable for a range of different building types such as fire stations, police stations, schools and other civic buildings. In rural areas especially, these community buildings play a pivotal role by providing shelter and a communication hub during times of crisis.
By raising the bar in respect of durability and performance or our buildings, we will ensure they last longer, require far less maintenance, and provide better shelter against the increasingly unpredictable effects of climate change. They will also be more sustainable than current standard construction methods in terms of operation.
The prototype and the project demonstrate that you can build responsibly in areas prone to bush fires, and build assets rather than liabilities. It stems from the belief that these construction methods can be used to convert many civic existing buildlings to community refuges in time of bushfire. They received two 2012 International Green Dot awards for Sustainability Concept and Sustainability in Building, and the 2011 Big Idea award and grant for Excellence in Innovation.