A once gritty inner-urban laneway in Richmond, Melbourne, has been transformed. The architect – here also the developer and financier – saw opportunity and potential in a compact, unloved, inner-urban laneway. Clever planning has yielded two pleasant houses where once were rubbish bins and parking.
Within uncommonly tight constraints, the architect has maximized the potential and yield by creating a truly responsive building. The section is stepped, responding to the tight envelope; the houses face due north, capturing surprisingly pleasant treed local views. Adjustable screens mediate sun and privacy to the remarkably spacious outdoor terraces. Each face of the building is specifically fitted to its immediate external context and internal functions, the exposed structural timber frame organizing this variously formal and material expression into a cohesive whole.
This is a good demonstration of strategic economy and smallness, the remediation of "left over" urban spaces, and the opportunity to increase residential density by intelligent infill in unexpected places.
– Jury citation
Source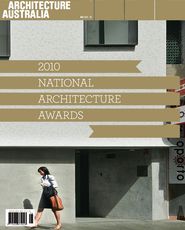 Issue
Architecture Australia, November 2010
Related topics