A large black rectangle looms beyond the end of platform five at Melbourne's Southern Cross Station. From inside the station on a dull grey afternoon, it looked as if the light-sucking monolith from 2001: A Space Odyssey had landed. There is an alien in the rail yards.
Moored in a sea of railway tracks, the Yardmasters building shares a few of the traits of Victorian-era railway signal boxes – it is tall and skinny with elevated wraparound windows. But that's about it. The architects at McBride Charles Ryan (MCR) wanted commuters to ask, "What the hell is it?" and by my small sampling of opinions, they're successful.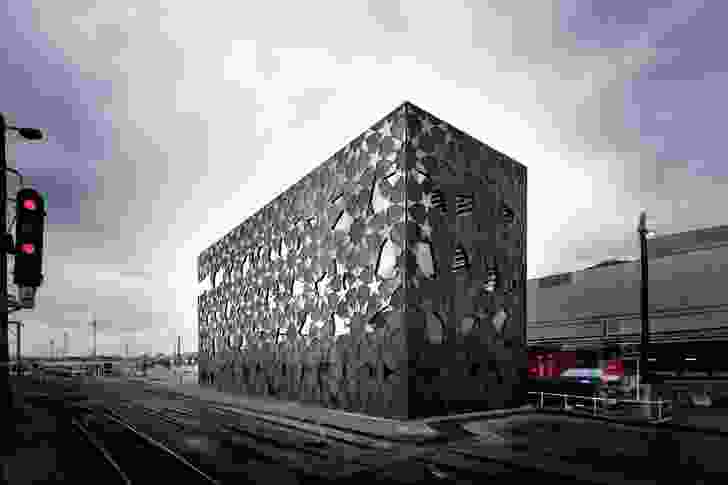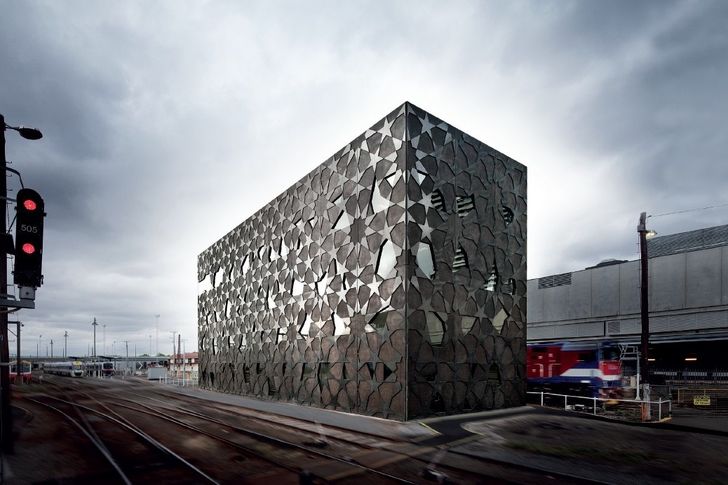 What is it? It is a four-storey building used by signal people, train drivers, train cleaners and repairers. They share a gym, an eating area and a need to be close to the tracks. The Yardmasters is constrained on all sides by track and can only be entered from a stair emerging from the service tunnels beneath.
MCR was approached after someone at Southern Cross saw its striped Templestowe school, a building that provides much external bang for buck. They were expecting a "glorious" tin shed at Southern Cross, but MCR gave them something more. They argued for tilt-up Thermomass panels, which can be assembled very quickly, are robust and include insulation within the concrete sandwich. Ultrafloor prestressed beams were used for the floors. Ease and speed of erection were critically important to the cost of the building, due to the high-risk location and the four-hour, late-night construction timeslots. This job called project architect Drew Williamson out of bed regularly for 2 am site inspections.
The panel design was parametrically aided so that the dimensions, weights and patterns could be adjusted to the optimum configuration. Trucks from the precaster in Adelaide could carry up to twenty-five tonnes, so to get two adjacent panels onto each truck, their weights had to be coordinated by altering the thickness of the external relief. The fabrication was made more efficient through the use of a template that could be used for all panels, but it was still trickier than anyone imagined.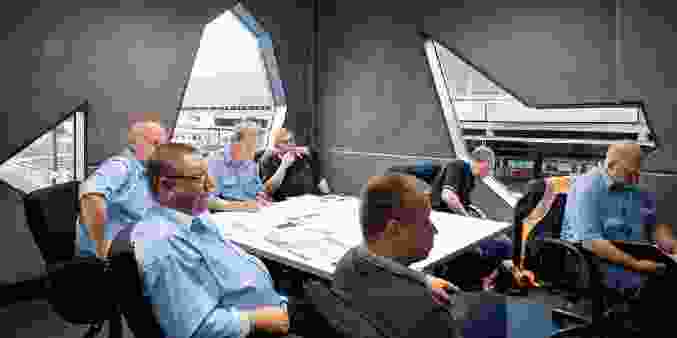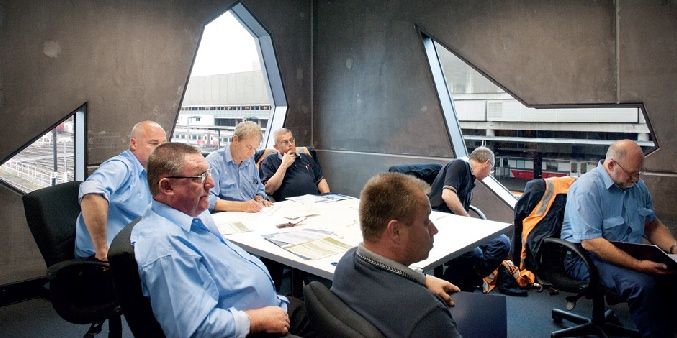 The spaces inside are utilitarian and conventionally partitioned. The building will no doubt be carved up differently as people and needs change. MCR took this as a given and treated the building as a simple shell for ever-changing uses. They have provided each space with at least one treat that will remain, an "amazing aperture." The royal purple corridor walls should also survive any replanning. "We wanted to give it some richness even though we knew there was a lot we couldn't touch." Colour restrictions were stringent inside and out, as railway workers could not confuse a colourful glimpse of the building with a track signal. The entire building uses a palette of white, dark charcoal and purple. Given the predominance of blokes in the building, and about.com's rating of purple as the least favourite colour of blokes, they may have taken a cheeky risk here. But there has been no negative feedback to date.
The purple-lined innards reinforce the building's intended likeness to an exotic jewellery box. The architects entertained many forms before arriving at the box. Early versions were far less simple and attempted to connect over tracks to the platforms. This wasn't working for Southern Cross so the building was detached and a more traditional signal box form was adopted. The resulting shape and proportion of the Yardmasters building is quite close to the Basel Signal Box by Herzog and de Meuron (1997). The two buildings had a similar set of constraints, resulting in a similar, unusual proportion made more obvious by the exposure of both buildings. "You get the proportion and maybe the strategy for dealing with the outside. It becomes not just building, not just box, it's a kind of anti-building in a way. If they hadn't done that, whether we could have done this, I don't know."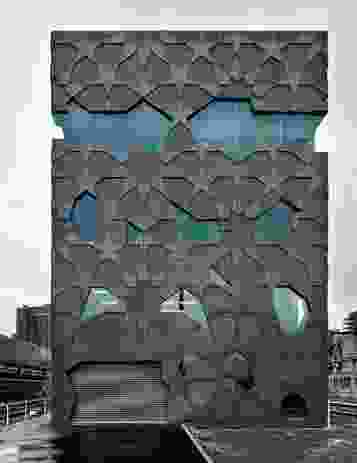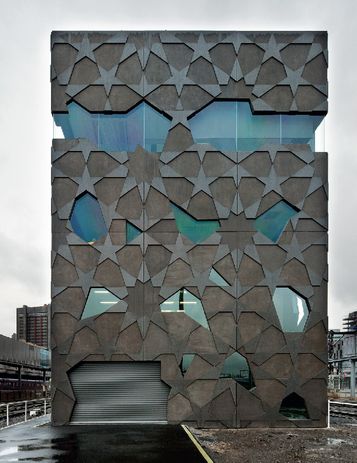 The dense horizontal window fins of the Basel box confuse the scale of the building and trigger a moiré pattern from certain angles, at least when photographed. Yardmasters has a pattern too – imprinted onto the precast tilt-up slabs. Rather than moiré, this is Moorish. So how did an old Moroccan tile pattern come to land in a Melbourne rail yard?
MCR chose the ten-pointed star because they liked it, it would use a minimum number of moulds and it satisfied their search for a regular relief pattern that would accommodate irregular window shapes. Some quick research unearths that the ten-pointed star does not tessellate well due to the pentagon at its core. It produces some awkward shapes at its boundaries, either double pentagons or mutant stars. Perhaps this irregular regularity appealed. The pattern may have fitted the brief, but it brings with it a cultural load which can't be ignored. I asked MCR how they felt about borrowing a pattern from another culture, and whether it carries any meaning.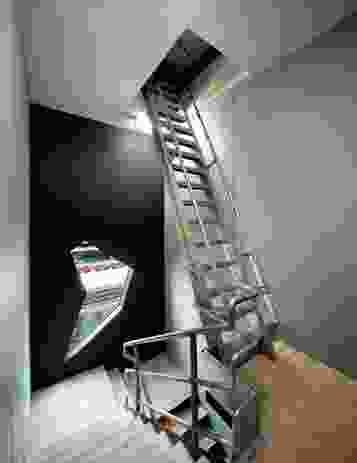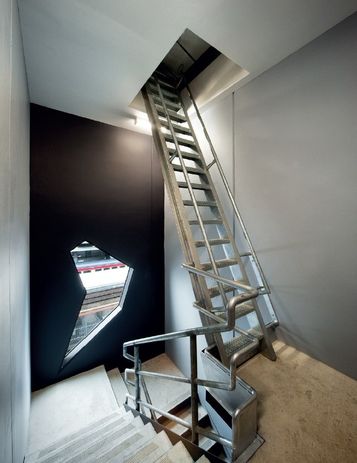 "We did it at the height of the Iraq war, so it's inevitably political, although that's not the prime motivation for us. We're an inclusive country, and we can explore these patterns. But, the reason is primarily aesthetic, we love the geometry and the play of the random versus the ordered. But also I think we wanted that sense of mystery, that sense of foreignness. There is a tiny Moorish tradition which we are happy to be a part of. You can't do it and not look like it's political, but we were comfortable enough doing it."
The tiny Moorish tradition referred to is the flourish of exotic Melbourne buildings in the early twentieth century, most notably the recently demolished Eastern Arcade and the Forum Theatre (John Eberson in association with Bohringer, Taylor and Johnson, 1928). The Forum apparently includes the same tessellation within its Spanish fantasy land.
Whether the pattern used by MCR was sourced from Owen Jones' Grammar of Ornament, a precast forms book, or 1920s atmospheric theatres, I have some difficulty with the way it is being incorporated at the Yardmasters. The architects are using the design for its beauty and geometric qualities, but also for its frisson, its contribution to the building's moody foreignness. The latter is problematic – is it really being culturally inclusive to borrow an Islamic pattern to heighten a building's otherness?
Maybe this is a discussion that is irrelevant to most on the ground. It is an unapproachable building fleetingly visible to train users and people milling around Etihad Stadium. While I was writing this I received a text from a friend at a game. "At docklands footy, half-time looking at the yardmasters building … It's a cracker I reckon." A hidden cracker of a jewellery box it is. Or a tissue box, if you listen to the workers there.

Credits
Architect

McBride Charles Ryan
Melbourne, Vic, Australia
Project Team

Robert McBride, Debbie Ryan, Drew Williamson, Andrew Hayne, Michelle James, Fang Cheah, Angela Woda, David Fraser, Scott Crowe, Johanna Brunner
Consultants

Builder FIMMA Constructions
Building surveyor Philip Chun & Associates
Cost consultant Newton Kerr and Partners
Environmental consultant Cundall Australia
Services consultant ALA Consulting Engineers
Structural consultant VDM Consulting
Thermomass system Composite Global Solutions

Site Details

Location Spencer Street, Melbourne, Vic, Australia
Site type Urban

Project Details

Status Built
Category Public / commercial

Client

Client Southern Cross Station
Website southerncrossstation.net.au

Source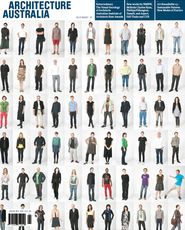 Issue
Architecture Australia, July 2010
Related topics