Modernist Yuncken Freeman Melbourne office saved from redevelopment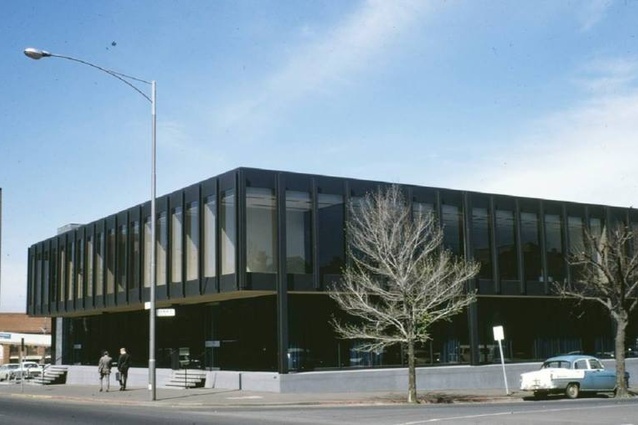 A proposal to construct a hotel on top of a modernist office building in West Melbourne has been dismissed by the Victorian Civil and Administrative Tribunal (VCAT).
The tower, designed by Push Architecture, would have stood 69.4 metres and 19 storeys over Flagstaff House at the corner of King and Batman Streets, a two-storey International Style building designed in 1955 by, and as the office for, architecture practice Yuncken Freeman. Opposite the site on Batman Street is the St James Old Cathedral, and the building faces Flagstaff Gardens on King Street. The design was inspired by Ludwig Mies van der Rohe's Farnsworth House, among others. Known as Flagstaff House, the building is identified as a "B" graded building in the Melbourne City Council's Heritage Inventory. The property was sold to foreign investors in 2016 for $14.6 million.
A heritage report commissioned by the City of Melbourne in 2016 described Flagstaff House as "significant historically and aesthetically to West Melbourne, the City of Melbourne and Victoria." The report also found the building to be one of "the most accomplished, early small-scale International Modern office designs in Victoria, serving as a prototype for the design and development of BHP house as well as an advertisement for the firm's design direction."
In their decision, VCAT presiding member Megan Carew and member Lorina Nervegna noted objections to the way the design of the new tower would interact with the office. They also accepted the concerns of the developer of a neighbouring property and the adjacent Haileybury College, a private secondary school, concerned about the new tower obstructing light.
Carew and Nervegna said that Flagstaff House is "considered a prototype building for subsequent International Style heritage buildings by Yuncken Freeman in Melbourne, most notably the Former BHP House and the South Yarra Library." 
The firm, which was dissolved in the 1980s, was was particularly active during the mid-20th century. In Melbourne, it designed the Sidney Meyer Music Bowl (1959) and was appointed to masterplan the La Trobe University Bundoora campus (1964). In Canberra, the firm was responsible for the Canberra Theatre Centre (1965).
Carew and Nervegna said that although the development would have retained the facade of Flagstaff House, the design of the proposed tower would not interact with Yuncken Freeman's design in an appropriate way. "We find that the detail of the design response has not been sufficiently explained and that we have a proposal of high contrasts: a black Miesian rectilinear heritage building with a proposed tower truncated in two halves of curved forms (in both horizontal and vertical planes) framed with white vertical bands (that also curve inward) intercepted with a mid-point recess."