Responding to its steep hillside site, the Z House provides intrigue with a rich variety of spaces formed around a central, thickly vegetated, sloping central courtyard garden. This courtyard is the core of the house, relating building to landscape, a garden not just to look at but to be with.
The mood changes from the lofty lounge room, with subtle natural light from above and low-level courtyard windows, to the floating study loft opening to the sky and the outdoor terrace bridging over the courtyard vegetation.
Cabinetwork, stairs, windows and doors are all immaculately detailed and crafted to appear as refined works of art.
The notion of architecture as art continues externally. A small window projects to the street, displaying a fragment of the art within, while coloured tiles pattern the street facade and timber trellises encourage vigorous flowering vines.
The view from the street above is carefully considered, with abstract pebbled roofs framed by a large portal frame.
When an appreciative client proudly points out details of the house with the continual introduction "the genius of this design", you know this is unique architecture finely crafted for client and site.
– Jury citation
Credits
Architect

Donovan Hill
Australia
Project Team

Brian Donovan, Timothy Hill, Michael Hogg, James Davidson, Jodie Cummins, Robert Myszkowski, Martin Arroyo, Anna O'Gorman, Peter Harding, Sandy Cavill, Briohny McKauge, Paul Jones
Consultants

Builder James Trowse Constructions
Hydraulic consultant Steve Paul and Partners Brisbane
Landscape consultant Donovan Hill, Steven Clegg Design
Structural consultant TFA Project Group

Site Details

Location Teneriffe, Brisbane, Qld, Australia
Site type Suburban
Category Residential

Project Details

Status Built
Website http://www.donovanhill.com.au/images/residential/pdf/Z%20House%20Profile.pdf

Source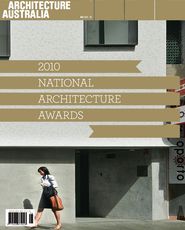 Issue
Architecture Australia, November 2010
Related topics