Fusing flavours of 1960s design with the bustling urban context of Carlton, Melbourne's newest boutique hotel, Zagame's House is playfully unique and comprehensive. Owned by seasoned hoteliers and brothers Victor and Robert Zagame, and designed by Lukas Partners Interior Architecture, the ninety-seven-room hotel, located in the heart of 'Little Italy' draws on the brothers' extensive hospitality portfolio, overlaid with a renewed consideration of contemporary art, design and technology.
Occupying the building formerly known as the Downtowner Hotel, the project involved a complete retrofit of the existing site that was established in 1967. With its U-shaped layout enclosing a central carpark, the building is in keeping with a nostalgic motel typology, a key driving force in the conceptual approach of Interlandi Mantesso Architects and Lukas Partners. "As a starting point," explains lead designer Kas Makohon of Lukas Partners, "we referenced Californian Googie architecture as it is specific to the era of the original hotel and also shared a similar style layout."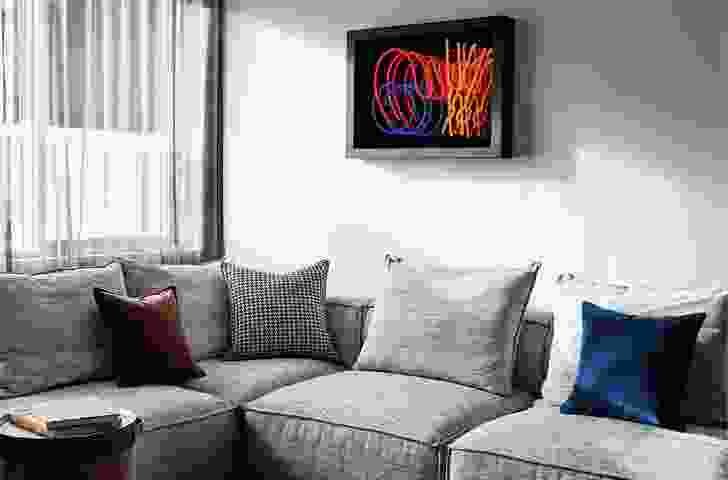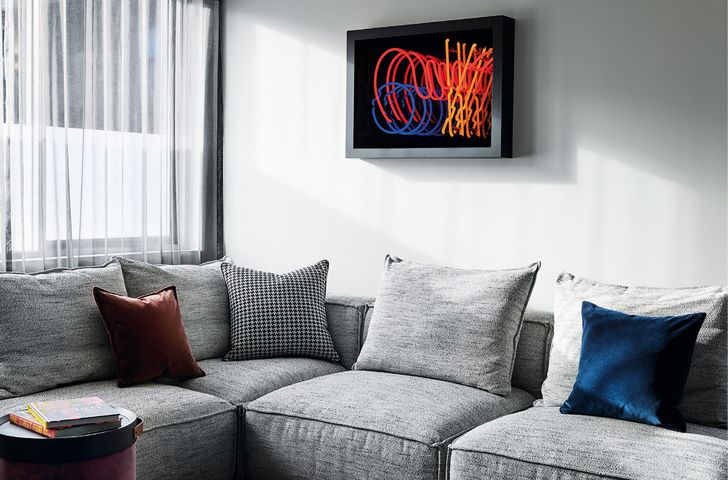 Extending the 1960s references for deferential guidance, Lukas Partners tackled the redesign through the concept of "populuxe"; a consumer culture and aesthetic combining the terms "popular" and "luxury." A guiding light of the project, the "populuxe" notion is expressed in a layered manner, building a strong brand narrative driven by bold colour, dramatic artworks and curvaceous geometries.
In the streetscape, Zagame's blackened facade gives luminance to a graphic stencilled artwork, defining the corner of Lygon and Queensberry streets, a recognizable beacon of the establishment.
Upon entry, the "Lounge Room," which doubles as a communal drinking, dining and co-working space, is delivered with vivacity and intention. Inky blue leather banquette seating lines the perimeter, retro-inspired lounge settings and bar tables nestle between concrete columns, and brick-lined fireplaces are flanked with bookshelves adorned with plants and decorative objects, giving the hotel a residential overlay.
A generous communal table, topped with nero marquina herringbone tiles, is an enticing anchor to the open-plan space, drawing visitors to congregate centrally and delight in the sumptuous atmosphere. The daring palette of purple, blue, gold and ochre tones is embellished with brass and mirrored accents, evoking an exaggerated opulence that contrasts against the rougher articulation of concrete, brick and grey-oak floors.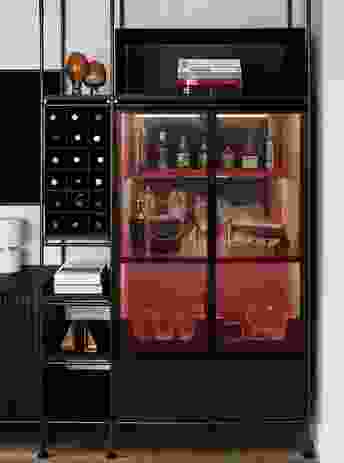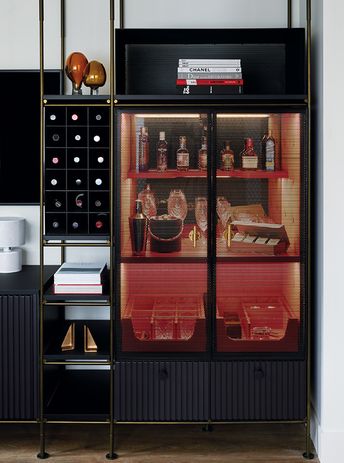 Striking artworks are a critical ingredient. A neon piece by Karl Gordon greets visitors on arrival, while a series of mirror-etched artworks by Ryan L. Foote morph local imagery and female forms into compelling, sinuous line work; a true hero of this public space. Spatial thresholds defining public and private are equally bold in expression. Rose-tinted leopard print carpet defines the main stairwell from the Lounge Room, while a sweeping candy-toned mural by street artist Rosie Woods takes visitors on a visual journey as they ascend to the rooms above.
Here, the interior palette is much quieter in tone. "The rooms offer a calm oasis to relax in," says Makohon. Metallic accents and playful patterns maintain conspicuous texture, detail and personality. The hotel offers three core room types; standard rooms, larger corner rooms and generous guest suites, complete with a relaxed lounge and bar area. Each has been thoughtfully layered with iconic furniture pieces, custom-designed joinery, premium fittings and fixtures, and a tailored approach to technology and service.
Lukas Partners has thoughtfully considered the acoustic performance of the rooms, ensuring guests have a peaceful experience and restful, uninterrupted sleep. Acoustic wall panelling lines the bedheads, while vinyl flooring controls noise transmission between floors. Rubber flooring to the halls mutes the hubbub of wheeled luggage and all bedrooms facing the busy streets of Lygon and Queensberry have been retro-fitted with double glazing to minimize the sound of traffic.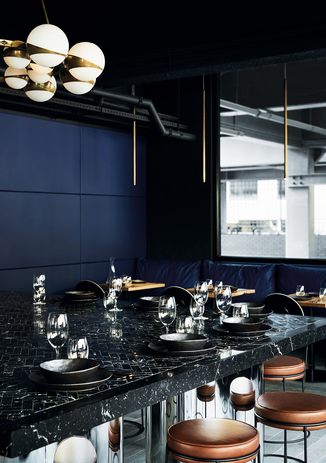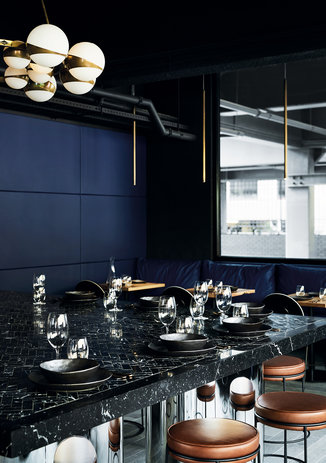 Bespoke bedheads give guests flexibility to reconfigure beds to suit their needs, while offering concealed power, USB charging and dimmable LED lighting, grazing the wall with a wash of soft light. The custom-designed bars give the rooms a distinct retro feel, with perforated metal and dark panelled drawer fronts concealing velvet-lined internals, an unexpected burst of brilliant red framing cut-crystal glassware and cocktail apparatus.
When paired with fine details such as the locally sourced minibar selection, Marshall Bluetooth speakers, French linen by local duo Society of Wanderers and neon artworks by Karl Gordon, these bespoke touches help to create a quintessential Melbourne flavour and memorable hotel experience. "We were careful and selective about the things that would sit next to our brand," comments Zagame's project manager Adam Taloni. "It was imperative that these touches were an extension of the Zagame experience."
Indeed, Lukas Partners, in close collaboration with the Zagame brothers, has left no stone unturned. With ancillary facilities such as a cutting-edge gym, flexible conference space and Lord Lygon, an atmospheric wine bar and shop, the hotel is a magnet for young creatives, corporate and leisure travellers. Playfully distinctive, Zagame House is a destination in its own right; a place to work, rest, play and stay, an expression of the Zagames' vision to encourage visitors to "expect the unexpected."
Products and materials
Walls and ceilings

Bedroom walls and ceilings painted in Dulux 'Rottnest Island.' Woven Image Echopanel in '442 Grey' used n bedrooms. Bedhead in Godfrey Hirst Orion vinyl planks in 'Cinnamon.' Lobby ceiling painted in Dulux 'Black Caviar.' Lobby walls include Gunnersen timber veneer in 'Carbon Quarter Cut'; Austral Bricks Allure brick in 'Ariana' and Burlesque brick in 'Charming Black'; Pelle Leathers leather in 'Panorama Maritime'; custom sprayed concrete render; MS Glass smoked mirror; Maxi Plywood timber battens in Maxi Film Black; Academy Tiles and Surfaces Kit Kat Mosaic tiles. Lord Lygon wine bar walls painted in Dulux 'Subdue.'
Doors

All hardware by Designer Doorware.
Flooring

Bedrooms use Godfrey Hirst Orion timber vinyl in 'Cinnamon.' Rugs by Cadrys and Hali Rugs (lobby) and Colorscope (bedrooms).
Lighting

Darkon lighting used for all internal and external lighting. Feature lighting by Volker Haug, Capocchi and Ross Gardam.
Furniture

In bedrooms: Voyager Bravo Sofa and Ottoman with in-house fabrics, Moro swivel armchair, Aubrey side table, Sabine chair and Fifties chair. In lobby: Spence & Lyda Rondo Max 3 sofa with inhouse tan leather; Grazia & Co Harvey swivel armchair in Kvadrat Divina Melange 3; Caristo armchair in black velvet from Space; Voyager Atollo Stools in Pelle Leathers 'Colorado Brazil' and Instyle Calibre fabric in 'Ultimate' and Penelope chairs with in-house velvet fabrics; Fenton & Fenton ottoman with in-house velvet fabrics; tables custom-made by Hugh Makin Furniture.
Guest bathrooms

All fittings by Rogerseller. Walls and floors in DeLucia Spa Stones tiles in 'Bianco.' Narrow Reeded glass and custom-designed etching. Mirrors by E & S Trading. Custom joinery with City Natural Chalet Oak Quartz benchtop and steel work in Dulux 'Satin Black.'
Other

Neon art boxes designed and executed by Karl Gordon. Lobby reception wall artwork designed and installed by Ryan L. Foote on purple mirrored acrylic.
Credits
Design practice

Lukas Partners
Melbourne, Vic, Australia
Project Team

Lukas Partners Interior Architecture: Kas Makohon, Luke Brewer;, Interlandi Mantesso Architects: Robert Ficarra, Sandra Muscat
Design practice

Interlandi Mantesso Architects
Melbourne, Vic, Australia
Site Details

Location Melbourne, Vic, Australia

Project Details

Status Built
Design, documentation 6 months
Construction 26 months
Category Hospitality, Interiors
Type Hotels / accommodation