Developer UEM Sunrise has announced the approval of a Zaha Hadid Architects-designed apartment tower in Melbourne, the second project in the city for the international practice.
The tower at 412 St Kilda Road will occupy the site of the former Victoria Police headquarters.
Patrik Schumacher, principal of Zaha Hadid Architects, said, "The Australian landscape's fluid geometry has inspired the building's sculpted facade, and is carried right through to the interiors."
Zaha Hadid Architects won an invited competition to design the residential tower in 2016. Elenberg Fraser was appointed to assist with delivering the project. The design of the facade, made up of a series of loop-shaped balconies, references rolling waves and a complex mathematical equation the architects said was related to the butterfly effect.
The tower will house 158 residences ranging from one to five bedrooms, which will also have Zaha Hadid-designed furniture.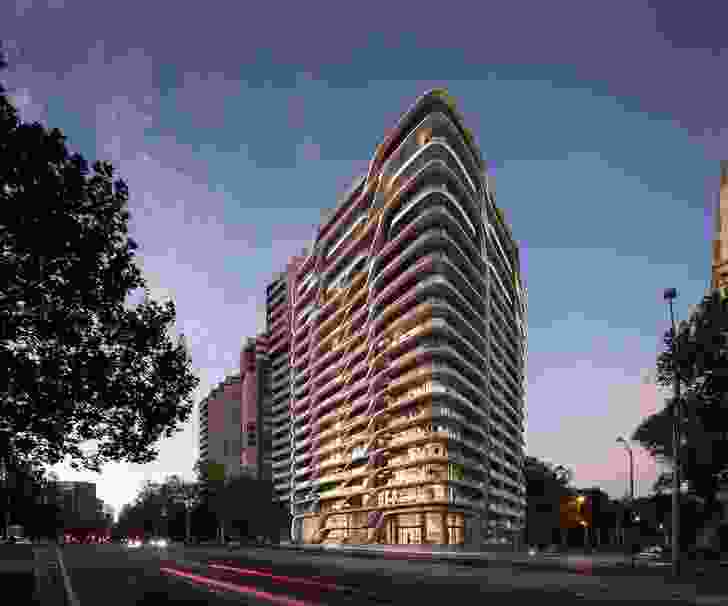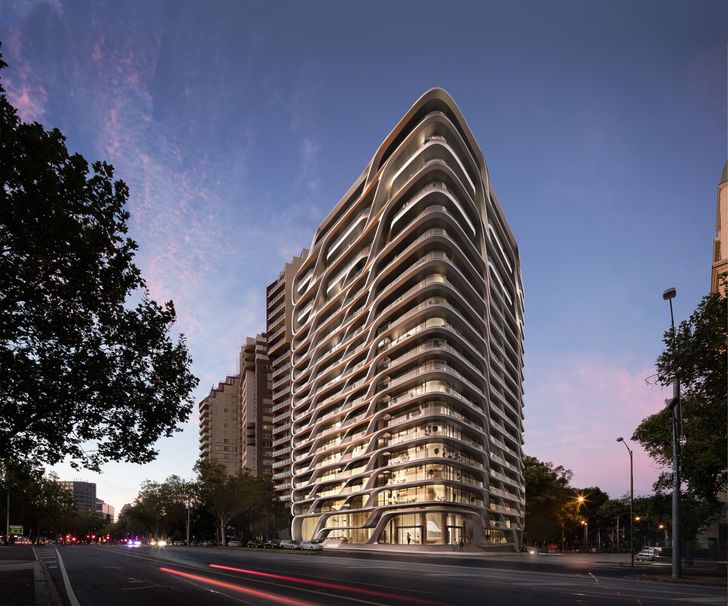 The Zaha Hadid Architects-designed tower proposal replaced a previous ARM Architecture scheme to convert the existing former police headquarters building into residential apartments, which was approved by the City of Port Phillip in March 2016.
The ARM Architecture proposal included a re-clad exterior featuring bronze or copper facade louvres overlaid with a network of light coloured pipework in circular patterns. However, the developer dropped the proposal due to "constraints present[ed] by the existing structure."
The Zaha Hadid Architects proposal was submitted to the City of Port Phillip for assessment in December 2016. A permit for the development was issued in May 2017.
The tower proposal is Zaha Hadid Architects' second project in Melbourne. The Victorian government in July 2016 approved its first, a tower on Collins Street in the CBD.
A Zaha Hadid Architects-designed three-tower development in Brisbane was approved by Brisbane City Council in 2015 and survived a drawn-out legal challenge, which was dismissed by Queensland Land and Environment Court in May 2017.
Related topics