The Queensland Planning and Environment Court has dismissed an appeal against Brisbane City Council's 2015 approval of a Zaha Hadid Architects-designed three-tower residential development.
The $430-million, 555-unit development is proposed for a 1.5-hectare riverfront site in Toowong, four kilometres south of Brisbane's CBD. The Sunland Group project, dubbed Grace on Coronation, proposed three champagne flute-shaped towers – two at 24 storeys and one at 27 storeys – despite a 15-storey height limit for the area.
Around half the site, 7,300 square metres, would be publicly accessible landscaped paths along the Brisbane river. In a design statement Zaha Hadid Architects said, "The design tapers each structure to minimize their footprint and open the riverfront to the public creating a vibrant civic space for Toowong within a new riverside park."
A resident of the neighbouring property to the north launched an appeal against the approval of the development based on a number of "matters of controversy," which included "whether the proposal exhibits subtropical architectural excellence."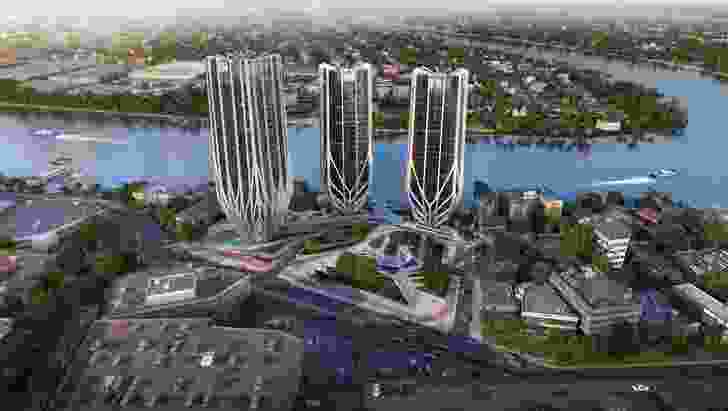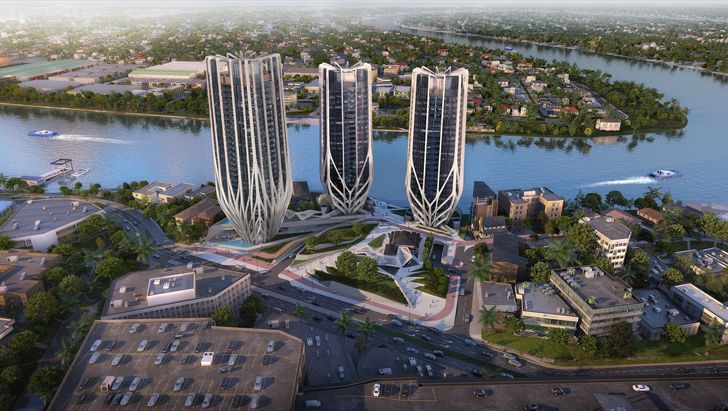 In his decision, judge Michael Rackemann said, "The architectural design will not necessarily be to everybody's personal taste, but it is an example of exceedingly high quality architectural expression by an important and acclaimed architect and will make a positive contribution in an architectural sense."
He also acknowledged the proposal exceeded the height limit under the Brisbane City Plan, but pointed out that it "provides twice (almost three times) the amount of open space on this riverfront site."
"In my view [it] warrants the exercise of discretion favourably to the proposal."
"On balance, I am satisfied that there are sufficient grounds, in the public interest, to approve the proposed development notwithstanding conflict with the planning scheme," he concluded.
Grace on Coronation is one of four Australian projects by Zaha Hadid Architects. A residential development proposal for the Gold Coast was withdrawn by its developer, Sunland, in September 2016. Zaha Hadid Architects also have two projects underway in Melbourne, the first at 582-606 Collins Street was approved by the Victorian government in July and the second, a residential tower near the CBD, was unveiled in December.
Related topics