Zaha Hadid Architects has won an international design competition for a residential tower on the site of the former Victoria Police headquarters near Melbourne's CBD.
The tower development, The Mayfair, will be located on the corner of St Kilda Road (dubbed Melbourne's grand boulevard) and Bowen Cresent.
The design for the proposed 21-storey tower replaces a previous scheme to convert the former police building into residential apartments, designed by ARM Architecture, which was approved by the City of Port Phillip in March 2016.
ARM Architecture's design proposed to re-clad the building with a bronze or copper louvred facade overlaid with a network of light coloured pipework in circular patterns.
After receiving a planning permit, developer UEM Sunrise "believed that the site [was] worthy of a higher standard of design excellence, than achieved in the existing permit," stated a planning report prepared by SJB Planning. A spokesperson for UEM Sunrise told ArchitectureAU, "The constraints presented by the existing structure (such as the lift core position and thickness of perimeter beam) based on an addition and alteration scheme did not allow for the full potential of the site in terms of viewlines as well as the best possible outcome for spatial layout to be realized."
The developer then commissioned an international design competition inviting three practices. Zaha Hadid Architects was successful and Elenberg Fraser was appointed to assist with the delivery of the project.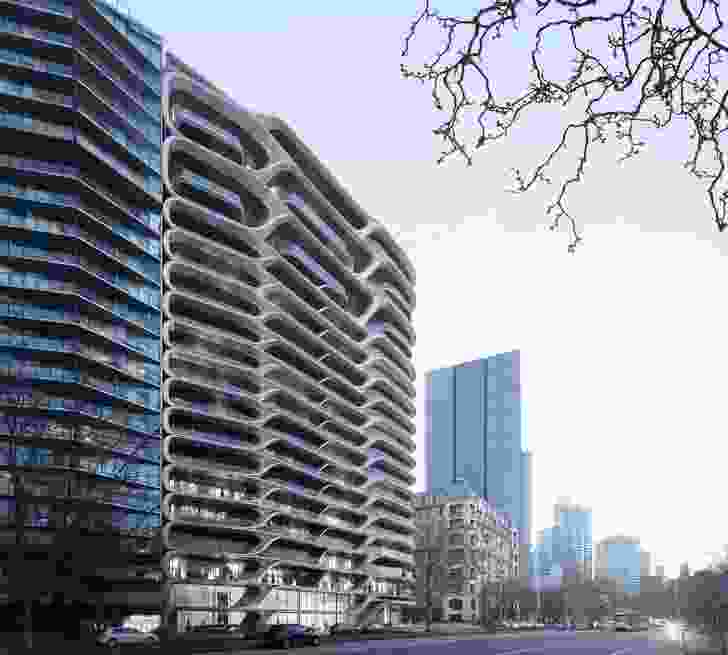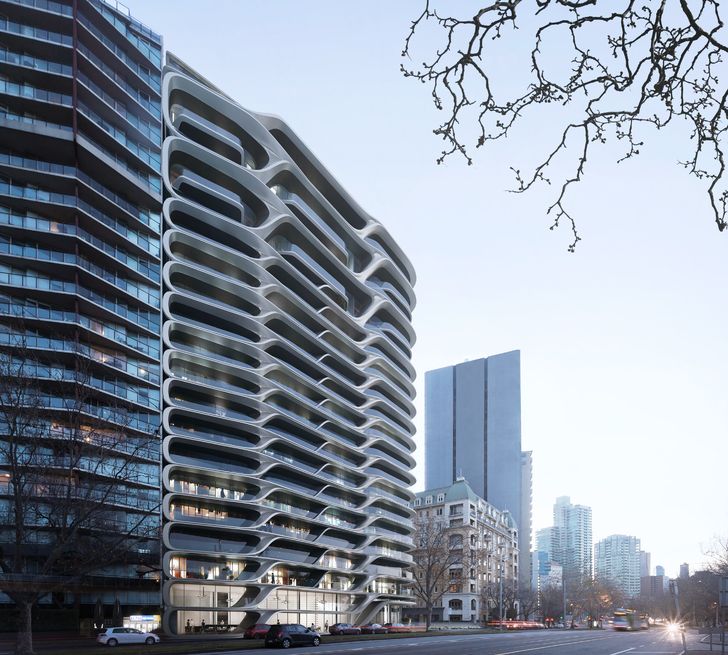 Zaha Hadid Architects' design references rolling waves and a complex mathematical equation related to the butterfly effect, known as the Lorenz attractor. It results in a facade design made up of a series of loop-shaped balconies.
The tower will house 158 apartments (predominantly two-bedroom), a restaurant and cafe on the ground floor and a communal space on the rooftop.
"The architectural quality of 412 St Kilda Road will help to solidify St Kilda Road's identity as one of Melbourne's grandest boulevards, increasing the prestige of the address and the surrounding neighbourhood with a sophisticated development," said Patrik Schumacher, director of Zaha Hadid Architects.
The proposal is currently before the City of Port Phillip for assessment.
The tower is the second project for Zaha Hadid Architects in Melbourne. Its $300-million proposal for a residential tower in Melbourne's CBD, designed with Plus Architecture, was approved by the Victorian government in July 2016. The practice is also designing the Grace on Coronation towers in Brisbane. Its second Queensland project, Mariners Cove, was withdrawn by the developer in September 2016.
Related topics