Iraqi-born British architect Dame Zaha Hadid has died suddenly in Miami in the morning of Thurday 31 March. She suffered a sudden heart attack while being treated in hospital for bronchitis.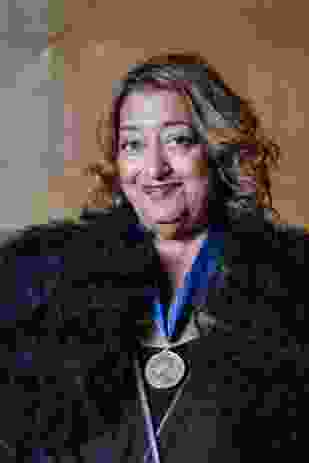 In February this year, Hadid accepted her 2016 RIBA Gold Medal. She was the first female architect to receive the award in her own right.
When the award was announced, Jane Duncan, RIBA president and chair of the selection committee said, "Zaha Hadid is a formidable and globally influential force in architecture. Highly experimental, rigorous and exacting, her work from buildings to furniture, footwear and cars, is quite rightly revered and desired by brands and people all around the world."
Hadid was born in Baghdad in 1950 and studied mathematics at the American University of Beirut before starting her architectural journey in 1972 at the Architectural Association in London.
By 1979 she had established her own practice in London and completed theoretical works such as The Peak in Hong Kong (1983) and the Kurfürstendamm in Berlin (1986).
Hadid's first major built commission was the Vitra Fire Station in Weil Am Rhein, Germany in 1993. Her quest for complex, fluid space can be seen in subsequent notable projects including the MAXXI: Italian National Museum of 21st Century Arts in Rome (2009), the London Aquatics Centre for the 2012 Olympic Games (2011) and the Heydar Aliyev Centre in Baku (2013).
In 2004, Hadid became the first woman to be awarded the Pritzker Architecture Prize. She won the UK's most prestigious architecture award, the RIBA Stirling Prize two years in a row: in 2010 for the MAXXI Museum in Rome, a building for the staging of 21st century art; and the Evelyn Grace Academy in 2011, which was a unique design, expertly inserted into an extremely tight site.
Upon news of her sudden passing, Lord Peter Palumbo, chair of the Pritzker jury, said, "The world of culture has lost a standard-bearer for the art of architecture. Zaha Hadid fought prejudice all her life with great success. And this, in addition to her genius as an architect, will secure her legacy for all time."
Tom Pritzker, chairman of the Hyatt Foundation which sponsors the Pritzker Prize also paid tribute: "Zaha represented the highest aspirations of the Pritzker Architecture Prize. She combined her vision and intellect with a force of personality that left no room for complacency. She made a real difference."
Hadid has also received accolades across the globe, including the Republic of France's Commandeur de l'Ordre des Arts et des Lettres, and Japan's Praemium Imperiale. In 2000, she was made Honorary Member of the American Academy of Arts and Letters and Honorary Fellow of the American Institute of Architects. In 2012, she became a Dame Commander of the Order of the British Empire.
She held various academic roles including the Kenzo Tange Chair at the Graduate School of Design, Harvard University; the Sullivan Chair at the University of Illinois, School of Architecture. Hadid also taught studios at Columbia University, Yale University and the University of Applied Arts in Vienna.
Working closely with office partner Patrik Schumacher, Hadid's interest was in the interface between architecture, landscape, and geology; which her practice integrates with the use of innovative technologies that often results in unexpected and dynamic architectural forms.
Zaha Hadid Architects currently have three proposed projects in Australia: the Grace on Coronation towers in Brisbane, Mariner's Cove towers on the Gold Coast and a tower in Melbourne designed in collaboration with local practice Plus Architecture.