The Zaha Hadid Architects-designed Grace on Coronation towers in Toowong has received development application approval from the Brisbane City Council.
The $430 million development will occupy a 1.5 hectare riverfront site, just four kilometres from Bribane CBD. The development comprises of three champagne flute-shaped towers, two at 24 storeys and one at 27 storeys, which will contain a total of 555 units. The design also incorporates the preservation of heritage-listed Middenbury House, and two heritage-listed fig trees.
The Council has granted approval, despite the development overwhelmingly exceeding a 15-storey height limit for the area under the Brisbane City Plan.
Around half the site, 7300 square metres, will be publicly accessible landscaped paths along the Brisbane river. Zaha Hadid Architects' design statement said: "The design tapers each structure to minimize their footprint and open the riverfront to the public creating a vibrant civic space for Toowong within a new riverside park."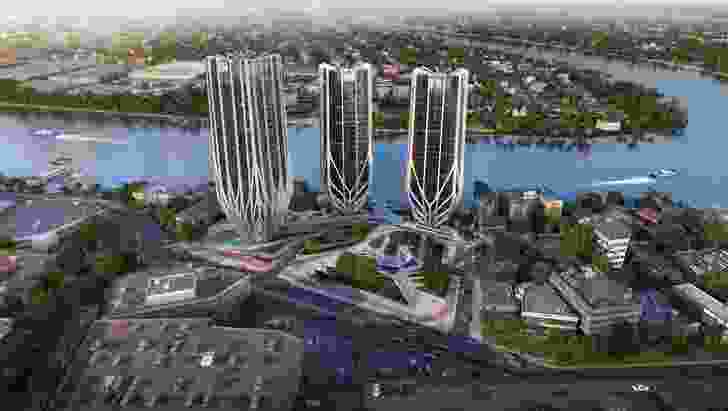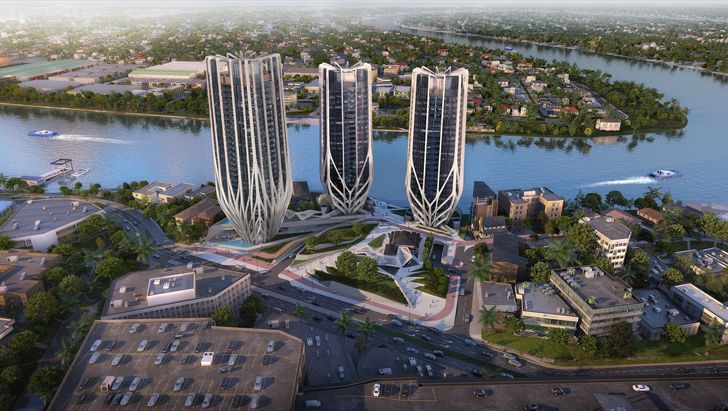 Local community groups, however, are displeased with the public amenity, citing that around half of Toowong's parkland has been lost since 1960 and that the riverfront site could be better used to restore some of it. The Brisbane Times reported that a local resident group had engaged landscape architect Jeremy Ferrier to draw up an alternative proposal for the site as a public park.
The site is formerly the Brisbane headquarters of the Australian Broadcasting Corportation. In 2006, the ABC was forced to vacate the site following fears of radiation contamination when 17 of its staff were diagnosed with breast cancer. When the site was declared contamination-free, it was listed on the market with an estimated value of $30 million in 2010. Gold Coast developer Sunland, which is also behind the Q1 and Palazzo Versace Hotel projects, bought the site for $20 million in 2013.
The Grace on Coronation development is open for public comment from Tuesday 9 June 2015 for 28 days, after which it will proceed to final approval by Brisbane City Council.
Construction on the site is expected to begin by the end of 2015.
Related topics