The Victorian government has approved a $300-million tower designed by Zaha Hadid Architects and Plus Architecture.
The tower, located at 582–606 Collins Street in Melbourne's CBD, will include 420 apartments, retail and office spaces, as well as a public domain comprising a plaza, a publicly accessible terrace, a ground floor art space and a new pedestrian link.
The tower has been designed as a series of stacked volumes, which resemble vases. Each volume tapers towards its base, which serves to break down the verticality of the tower while at the same time creating additional public space where the volumes meet.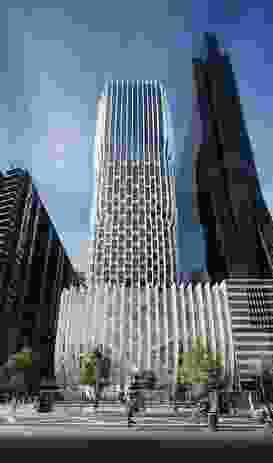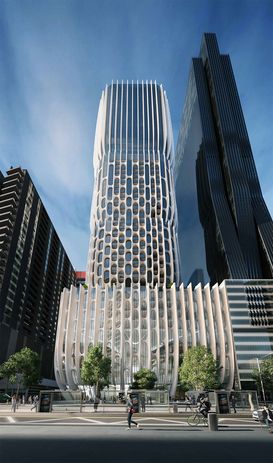 A series of sculptural columns surrounds each volume of the building to create uniform facades on all sides. The facade design references and emulates the historic architecture of Melbourne's CBD, reinterpreting it as filigree colonnades enveloping the building.
The design also establishes uniformity between the podium, tower and surrounding landscape elements. "The design has been defined by Melbourne's rich and diverse urban landscape, reinterpreted in a contemporary solution driven by the logical division of its overall volume that will enhance the city's public realm with generous communal spaces," said Zaha Hadid Architects' Michele Pasca di Magliano.
The project was assessed under the interim planning controls for Melbourne's CBD, which stipulate a maximum plot ratio of 24:1. In April 2016, the government proposed new changes that would see the ratio dropped to 18:1.
The original proposed height of the tower was 185.5 metres, which exceeded the plot ratio limit at 26.4:1. Through the assessment process, the height was reduced to 176 metres to prevent overshadowing of the Yarra River. The reduced height still exceeds the plot ratio limit at 25:1. But in a statement released by the Acting Minister for Planning Jill Hennessy, the minister said the public realm benefits allowed the building to exceed the plot ratio requirements.
"This stand-out design will enhance the city's skyline," Hennessy said.
The project's approval is supported by the Department of Environment, Land, Water and Planning, City of Melbourne and Office of Victorian Government Architect.
In May 2016, the City of Melbourne recommend the tower for approval after the council failed to achieve a quorum. The City of Melbourne planning officer's report stated, "the development will not overwhelm or dominate the public realm or adjoining buildings," and "apartment sizes are good [with] no reliance on typical saddlebag layouts."
The approved tower is the first Melbourne project designed by 2004 Pritzker Prize Laureate Zaha Hadid, who died suddenly in April this year. When completed, the tower will be among Zaha Hadid Architects' first Australian projects to be realized, including the Grace on Coronation towers in Brisbane and Mariners Cove towers on the Gold Coast.
"The late Zaha Hadid has been described as a starchitect [and] Melbourne will now have a piece of her artistic flare," Hennessy said.
Jess Liew, director of Plus Architecture, said, "Zaha will forever be part of our city's urban fabric with this monumental project a testament to her and the legacy she leaves behind."
Related topics