Developer Landream has submitted a planning application for a mixed-use tower designed by Zaha Hadid Architects and Plus Architecture in Collins Street Melbourne.
If built, the project will be Zaha Hadid Architects' first project in Melbourne, and the third in Australia after Sunland's Grace on Coronation development in Brisbane and Mariner's Cove development on the Gold Coast.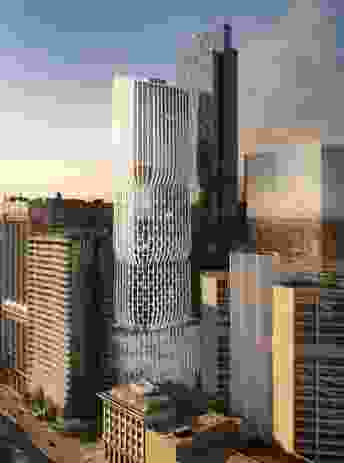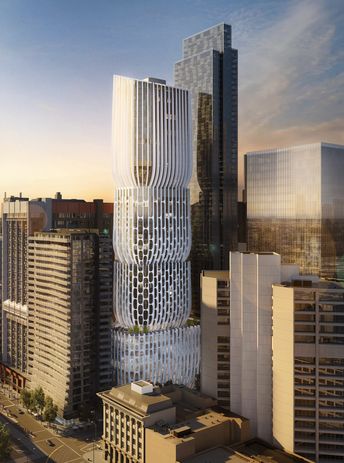 The tower has been designed as a series of stacked volumes, which resemble vases. Each volume tapers towards its base, which serves to break down the verticality of the tower while at the same time creates additional public space where the volumes meet.
A series of sculptural columns surround each volume of the building to create uniform facades on all sides. The facade design references and emulates the historic architecture of Melbourne's CBD, reinterpreting it as filigree colonnades enveloping the building.
The design also establishes uniformity between the podium, tower and surrounding landscape elements.
Located at 582-606 Collins Street, the proposed 54-storey tower will neighbour Elenberg Fraser's 27-storey Liberty Tower, completed in 2002, and the recently completed 69-storey tower at 568 Collins Street designed by Bruce Henderson Architects. The Australian Financial Review reported the proposed tower's height was significantly reduced following the introduction of Melbourne's interim planning laws in September, which stipulate a plot ratio of no more than 24:1. The proposed tower has a plot ratio of 29.2:1.
Landream claims the provision of a publicly accessible ground plane should justify exceeding the plot ratio limit. The proposal includes a south-facing plaza on Collins Street with 350 bicycle racks.
The proposed tower will have a mix of retail, commercial and residential and is designed to be 50 percent more energy efficient than conventional mixed-use buildings.
The project is not the first foray in Melbourne for Zaha Hadid Architects. In 2007, the practice, along with ARM Architecture, was appointed to design a $1.5 billion tower complex, also on Collins Street in Docklands, for Sama Dubai, a Middle Eastern investment company. The project was axed in 2008, because it was too expensive to build, according to The Australian.
In 2013, a scheme designed by Zaha Hadid Architects and BVN was shortlisted in a $1 million ideas competition for a Flinders Street Station Redevelopment.