Developer Sunland has submitted the Dame Zaha Hadid-designed Mariner's Cove to the Gold Coast City Council for approval.
Mariner's Cove consists of two towers, 44 storeys each, comprising 370 apartments and a boutique hotel with 69 suites.
The $600 million development, which will sit on a prime waterfront site overlooking Broadwater, will also include a privately-owned cultural precinct complete with an art gallery, museum, outdoor sculpture gardens and an underground aquarium. The precinct, said to be at the scale of New York's Guggenheim, will be the private answer to the public Gold Coast Cultural Precinct designed by ARM Architecture and Topotek1 in nearby Evandale.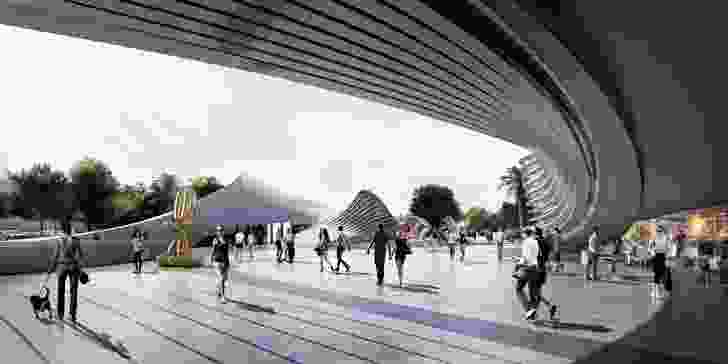 Sunland acquired the 1.15-hectare site for $13 million in 2011, and had designs on the neighbouring state-owned land to the south of the site but faced opposition from the then-Newman state government. The developer put the project on hold in early-2014, choosing to focus instead on its other projects in Brisbane and Sydney.
The development application comes less than a week after Sunland's Grace on Coronation towers, also designed by Zaha Hadid, were approved for Brisbane's Toowong by Brisbane City Council. The tapered form and sinuous exoskeleton of the Mariner's Cove towers look remarkably similar to the Grace on Coronation towers, as well as the 60-storey One Thousand Museum tower in Miami by the same architect.
Related topics