Zigzag Cabin (see Architecture Australia July/August 2003) brings together many of my ideas about architecture, which began to take shape in my early days of practice – everything custom built and designed with a timber and hardware store palette. The style has "Australian bush shack" and "tiny Japanese house" all over it. I started practising in my late twenties on a couple of small buildings and some alteration and addition projects, and Zigzag Cabin was an exciting freestanding project to take on. We had a good site, good brief and good client.
Located in the New South Wales Hunter Region's Wollombi, about 130 kilometres north of Sydney, the site was way, way out there. Since this project I can't count the number of times I've gone to visit a site like this, that's down a dirt road, down another dirt road and then up a hill on a dirt road. You find yourself standing there wondering, "How did I end up here?" Zigzag Cabin was intended to be the base camp for a future house. Richard Leplastrier, now a professor in the University of Newcastle's School of Architecture and the Built Environment, had taught me as a student to get to know the site, camp there, live there – and here was an opportunity to do so. The sketch design, as is the case for most of my projects, was done on the back of a beer coaster – literally. The "arty" clients rejected the first sketch so I came back with something a little more out there: a tiny, colourful, cubist box with a deck for living. I can't remember exactly where the name for the house came from, but it references the dwelling's zigzagging facade of vertical and horizontal windows, framing bush views.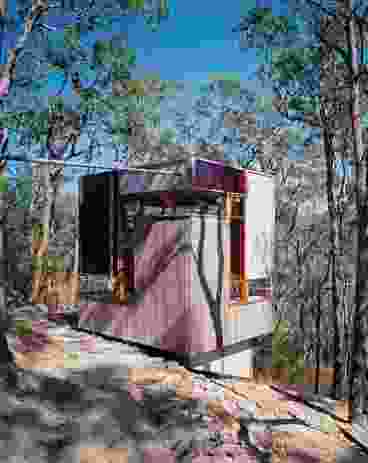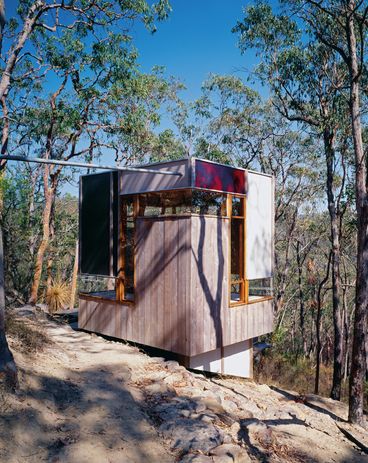 The building process was unusual, to say the least. I was determined to "touch the earth lightly," so we carried everything to the site, up a hill and on a tiny path, by hand. We also worked without power, so everything was precut or cut on site with hand tools. This resulted in details such as the use of masonite, fibre cement sheeting and cover strips, all cut to fit on site. Of course, it was self-engineered; the footings are made from lumps of rock from the site and a few bags of concrete mix. The cabin was built while we were also building projects in Sydney and Gloucester, so we would often swing by those on the way, scavenging materials from either site. It ended up being camp-on-the-ground stuff, draping paper or plastic over yourself at night to protect from rain and dew.
Completing the cabin became a labour of love, stretched out over a year spent coming and going, and I found myself finishing it alone for a period. I realized how good the project could be for my career so I stuck with it. I'm sure I spent more time on site than the clients, who had young kids. They were a little freaked out by the remoteness of the site and sold it soon after completion.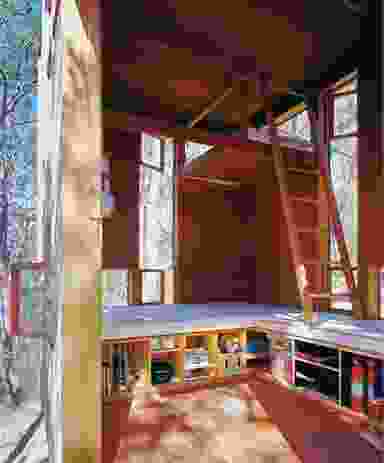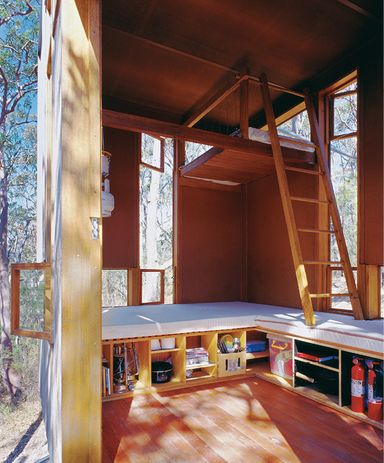 I saw the project as a "billboard in the bush" for architecture and my career. I knew it was very graphic in its colourful, cubist form and that it would photograph well. Photographer Brett Boardman, as ever, had one of those days where he just nailed it – bushfire smoke in the distance keeping us on our toes and giving us a great orange sky.
As is often the case, you get the work you publish. Zigzag Cabin was published a lot. I've ended up with years of requests for Zigzag Cabins. It's almost twenty years old and I'm still getting calls in reference to it. Sure, I wish I'd published a multi-million-dollar project instead and had requests for big houses coming in every month, but I didn't. I know it has made my career more difficult financially, as small projects don't tend to add up in fees and service. But you have to start somewhere and I am still interested in the design of small living spaces and the processes of living and building in extreme conditions. I'm currently working on a couple of small, remote buildings and I couldn't be happier.
Credits
Architect

Drew Heath Architects

Project Team

Drew Heath Builders: Drew Heath, Shaun Barnett, Craig Morrison
Site Details

Location Hunter Valley, NSW, Australia

Project Details

Status Built
Category Residential
Type Revisited / first house

Source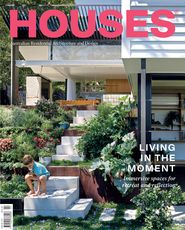 Related topics