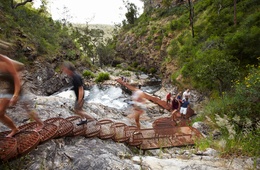 2016 National Landscape Architecture Awards: Award of Excellence for Parks and Open Space
MacKenzie Falls Gorge Trail by Hansen Partnership.
Barangaroo Reserve by Johnson Pilton Walker in association with PWP.
McCulloch Avenue Boardwalk by Site Office.
Return to Royal Park by City of Melbourne – City Design Studio.
Braithwaite Park Nature Play by Emerge Associates.
Adelaide Botanic Garden First Creek Wetland by TCL.