Edmond & Corrigan + Peter Corrigan: INFLUENCE
The work of Melbourne architecture practice Edmond and Corrigan, and of the late architect, educator and theatre designer professor Peter Corrigan, will be the subject of a free symposium to be held at RMIT University, where Corrigan once taught, on 26 August.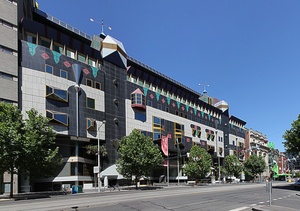 The symposium will take the form of a series of eight-minute presentations, with each speaker using a specific Edmond and Corrigan or Peter Corrigan project to explore their influence on their practice's architecture, and on Melbourne's architectural identity. 
Composed of current students and alumni of RMIT, the 30 speakers include Ian McDougall and Mark Raggatt (ARM Architecture), Phillip Goad (professor of architecture, University of Melbourne and Architecture Australia contributing editor), Vivian Mitsogianni (partner, M@ Studios and deputy dean of architecture, RMIT) and Eli Giannini and Catherine Ranger (MGS Architects).
In an obituary, RMIT colleague and Edmond and Corrigan monographer Conrad Hamann noted Corrigan's "unswerving" dedication to RMIT University and the "major factor" he represented in the status of the architecture school.
"His influence meant that throughout the 70s and 80s young architects would more often stay on in Melbourne and open offices. In contrast, Sydney absorbed bright young architects into established offices, tending to assimilate them into wider and less queried traditions."
For more information on "Edmond & Corrigan + Peter Corrigan: INFLUENCE," go here. To register for the event, visit its Facebook page.