Archiving Seasons of Light: Erieta Attali on Kengo Kuma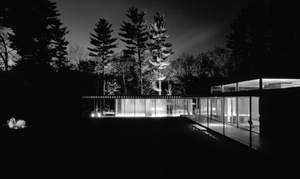 The University of Sydney presents an exhibition by New York based photographer Erieta Attali on two houses of Japanese architect Kengo Kuma.
Attali was originally a landscape and archeological photographer prior to photographing architecture. Her training has given her a unique perspective. Her work captures the transient spaces between buildings and their surrounding landscape. It's an approach to architecture shared by Kengo Kuma and the pair have collaborated for the past 14 years.
"Every other architecture photographer shoots the isolated object, [Attali] carefully picks out the qualities of the place," said Kuma. "It is still an image of a house, but the protagonist is the landscape itself. That is exactly what I am intending in the design."
The exhibition explores the relationship between light and shadow in Attali's photographs through Kuma's Glass/Wood House in New Canaan (USA) and Water Glass Residence in Atami (Japan). It will also feature a video interview with the photographer and the architect by associate professor Lee Stickells, head of architecture at the University of Sydney.
Tin Sheds Gallery, Wilkinson Building, The University of Sydney, Darlington
Tues-Fri 11am-5pm
Cost: Free. More information.