Best known for his massive outdoor steel sculptures that can be seen across Australia and around the world, the late Australian-American artist Clement Meadmore was also a prodigious industrial designer.
Now, an exhition in Melbourne, Clement Meadmore: The art of mid-century design, has become the first major exhibition to focus on this part of his oeuvre.
The culmination of some ten years of research by Australian mid-century design collector and research Jeromie Maver and Swinburne University's Dean Keep, the exhibition features more than 100 objects, including rare archival documents and photographs. It will examine the crossover of art and design in Meadmore's work.
"Meadmore is considered one of the world's most important modernist sculptors of the 20th century, but very little is known about his industrial design practice in Australia," said Keep.
"We were fascinated by the corded furniture he manufactured in Melbourne during the early '50s and soon discovered that no comprehensive research had been conducted on his design practice."
As part of their research Keep and Maver held up to 100 interviews with Meadmore's family, friends and contacts and conducted an exhaustive search of periodicals, newspapers and manuscripts in public collections.
"Although much has been written about Meadmore's sculptural practice, his design practice in post-war Australia had generally been overlooked by researchers," said Keep. "What we discovered was a multi-disciplinary design practice that stretched well beyond Meadmore's range of corded chairs, including graphic and interior design, industrial design and sculpture."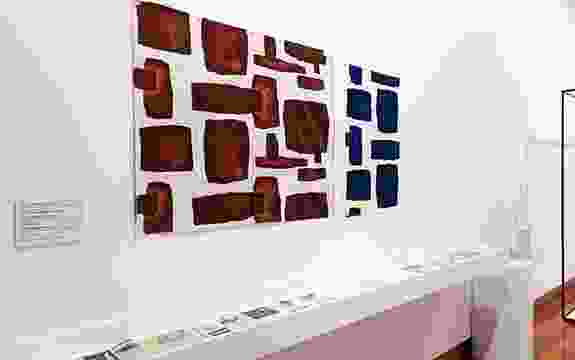 "Unlike his design contemporaries of the post-war period, Meadmore's creative practice took its cues from Mondrian and European Modernism. Our research has uncovered many previously unattributed designs and sculptural works, that document Meadmore's life in Australia between 1948 - 1963."
"The exhibition is an important retrospective showing a snapshot of time when mid-century tastemakers sought to turn Melbourne into a thriving and cosmopolitan city."
Clement Meadmore: The art of mid-century design is showing at the Ian Potter Museum of Art at the University of Melbourne until 3 March 2019.
For further information, head here.
Event details
Date
Tuesday, 20 Nov 2018 to Sunday, 3 Mar 2019 Past event
Related topics