John Gollings: the history of the built world
An overview of the expansive body of work by architectural photographer John Gollings will go on display at the Monash Gallery of Art (MGA) from 10 December to 4 March 2018.
The first major retrospective of his work, John Gollings: the history of the built world takes in the breadth of the photographer's work over a more than 50-year career (much of it populating the pages of this website and its sister titles Architecture Australia, Artichoke and Houses). 
Gollings' work focuses largely on the built environment, both contemporary and historical, in Australia and across Asia. In addition to commissions covering contemporary architecture of every imaginable type, he has also conducted large-scale photographic surveys of the Angkor Wat temples at Siem Reap in Cambodia and the ancient city of Vijayanagara in India.
Gollings was the recipient of the William J. Mitchell Prize in 2013 at the Australian Achievement in Architecture Awards for his documentation of architecture and of historical sites across Asia. He was also, with architect Ivan Rijavec, the creative director of the Australian Pavilion at the 12th Venice Architecture Biennale, titled Now and When: Australian Urbanism.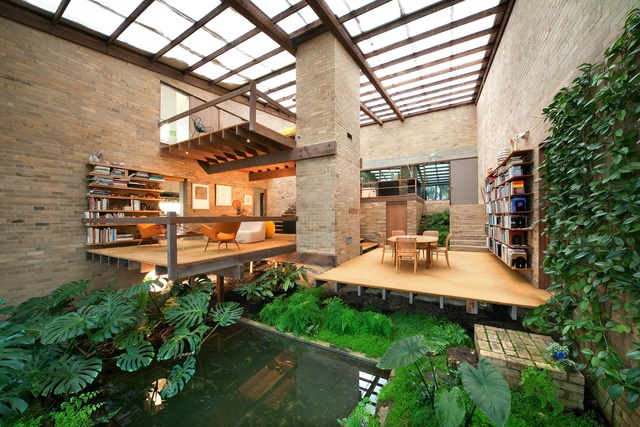 Speaking to ArchitectureAU in 2015, Gollings said that his most meaningful work had been in "Documenting abandoned civilizations, because it's an alert to modern politics and society to not be complacent.
"And to not only think about the quality of the cities we live in but also the fact that they could disappear. I'm staggered that these ruined cities were the centre of civilization and they've disappeared. That's important to me."
Gollings also said that the success of his architectural photography hinges on his ability to capture the "design essence" of a building, so that a viewer is "able to offer their own critique from my photographs."
"I'm very interested in not having the photograph reflect my creativity, but the architect's creativity and nuances." 
John Gollings: the history of the built world is on exhibition at the Monash Gallery of Art until 4 March 2018. Members of the public are welcome to attend the exhibition's opening on 10 December, which will be opened by the director of the Art Gallery of NSW, Michael Brand. For more information, go here.