NGV Australia: The Pool – 2016 Venice Architecture Biennale commission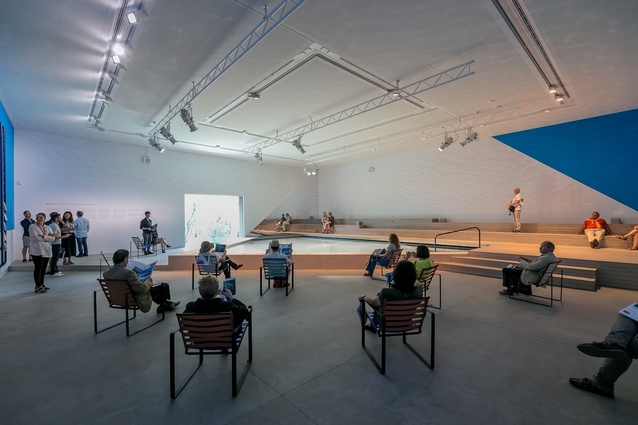 Australia's 2016 Venice Architecture Biennale exhibition will be presented for the first time in Australia at the National Gallery of Victoria (NGV) in August.
The Pool: Architecture, Culture and Identity by Isabelle Toland and Amelia Holiday of Aileen Sage Architects with Michelle Tabet of consultancy company Left Banks Co., was originally commissioned by the Australian Institute of Architects and displayed in the Denton Corker Marshall-designed Australian Pavilion.
The original installation featured a 60-square-metre pool, filled with water 30 centimetres deep, and the voices of eight prominent Australians discussing their relationship with pools, piped into the pavilion.
In an interview with Rory Hyde for Architecture Australia, Tabet said the inclusion of these voices helped make the installation accessible to a broad audience.
"We took this approach because storytelling is also about engaging a non-architectural audience," she said. "It's a way of talking about architecture that isn't embedded in that specialty." 
An 11-metre-long version of The Pool will be installed at the National Gallery of Victoria along with timber decking and pool lounge chairs. The audio excerpts of the eight prominent Australians will be presented in eight "lanes" within the space.
The Pool will be on display at the Ian Potter Centre: NGV Australia from 18 August to February 2018.