UNSW Master of Architecture graduate show: Utopia Redux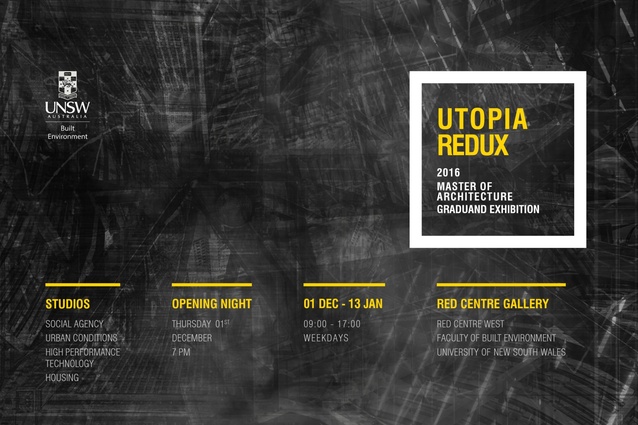 The University of New South Wales Master of Architecture graduate exhibition, Utopia Redux, will open on 1 December 2016.
The 2016 exhibition has a broad vision and considered understanding of the socio-cultural and economic context which influence the making of architecrure in conjunction with the concept of "utopia."
Utopia has been a recurring theme in architecture, marked by experimentation and interrogation of architecture's ideological and societal purpose.
The four Master of Architecture studio streams – Architecture and Urban Conditions, Architecture and High Performance Technology, Architecture and Social Agency and Architecture and Housing – are situated within this context and seek a reassessment, reconcetualization and critique of utopian desires. 
The show focuses on architecture and its relationship with the spatial and material dimensions of food, hyperdensity and dwelling respectively.
Utopia Redux will be on display from 1 December 2016 – 13 January 2017, weekdays from 9 pm – 5 pm.
For further information visit the Utopia Redux website.