The Australian Centre for the Moving Image will host the Australian premier of Barbicania, on 26 July 2015, as part of the Open House Melbourne program.
Commissioned by London's Barbican Centre, film makers Ila Bêka and Louise Lemoine created a feature-length film documenting the personalities, lifestyles and architectural landscape of the Barbican Centre and Estates.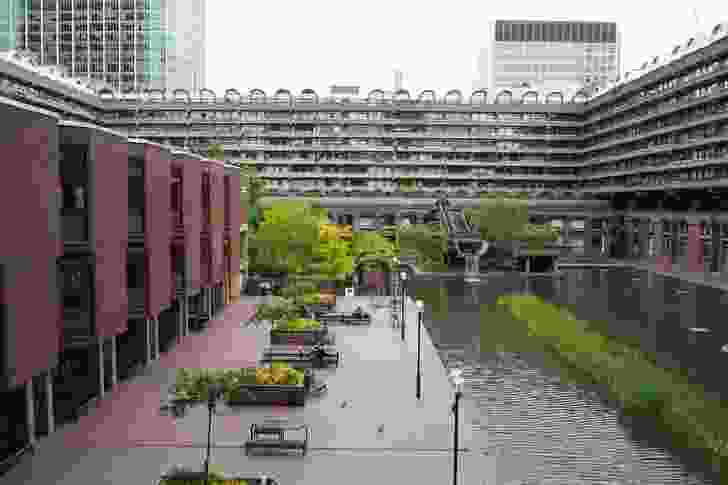 The film makers immersed themselves inside the brutalist "fortress" for a month and take the audience inside the Barbican, from residences to the performing arts centre.
The Barbican is a mixed use development in central London designed by Chamberlin, Powell and Bon and it was built in a series of stages between 1965 and 1982. The housing complex consists of 13 terrace blocks and three tower blocks. The adjacent Barbican Centre is a performing arts facility home to the London Symphony Orchestra, the BBC Symphony Orchestra, the Royal Shakespeare Company, an art gallery, cinema, library, restaurants, conference halls, trade halls and informal performance spaces.
The film is a series of diaristic vignettes with the people who live and work in the estate, including Neil, who tends to plants and fish in the conservatory; Paolo, who talks about having a magic key; and Camilla, who delves into Barbican's psyche.
The film makers Ila Bêka and Louise Lemoine are known for their cinematic and narrative depictions of contemporary architecture. The pair are behind the Living Architecture series of films which includes Koolhaas Houselife, Pomerol, Herzog and De Meuron, Xmas Meier, Gehry's Vertigo and Inside Piano. Bêka is also a trained architect.
The film screening will be followed by a panel discussion on vertical living with speakers including Clare Cousins (Clare Cousins Architects), Mark Raggatt (Ashton Raggatt McDougall), and Louise Mackenzie (Cinecity).
The Australia premier of Barbicania is made possible through a collaboration between ACMI, Dis-cour.se and Melbourne Open House in partnership with Assemble Papers and supported by the DADo Film Society.
Sunday 26 July 2015
7:30pm
Cost: $20 (full), $16 (Concession)
Tickets here.
Event details
Date
Sunday, 26 Jul 2015 Past event
Location
Australian Centre for the Moving Image
Federation Square, Melbourne, Vic 3000, Australia
Map
Related topics