Modern Art Projects' next Art & Architecture open day on 6 July 2014 revisits one of Australia's most influential mid-century project home styles, the Beachcomber.
This particular house is located in the NSW Blue Mountains suburb of Faulconbridge, overlooking the gorges of the Grose Valley. Designed in June 1961 by Croation-born architect Nino Sydney, it opened in spectacular fashion on 13 October 1961 when thousands flocked to see what proved to a revolutionary cultural event. Nino Sydney, as chief architect for Lend Lease in the early 1960s, was on e of the first to introduce Australia to affordable architect-designed project homes, along with Ken Woolley and Michael Dysart's early designs for Pettit & Sevitt. All were launched to spectacular success at the 1962 Carlingford Homes Fair, and these modest, intelligent designs quickly spread throughout and beyond Sydney's burgeoning suburbs.
As part of the open day experience on 6 July, Rilka Oakley (Blue Mountains Cultural Centre) curates an exhibition, Hide & Seek, which navigates personal points of view, while challenging our default perspectives on things. It invites the viewer to find the art, to look and ask, "is this the art?" and to spend time making an assessment of what they are looking at, or even how they are looking. Guest artists include Cigdem Aydemir, Cath Barcan, James Culkin and Beata Geyer, Anne Graham, Billy Gruner, Daniel Kojta and David Sudmalis.
About the Beachcomber
As a young student in the early 1950s, Nino Sydney was an ardent fan of the radical Purist principles of Le Corbusier. Likewise, Le Corbusier favoured the flamboyant style of Oscar Niemeyer and restraint of Bauhaus style generally.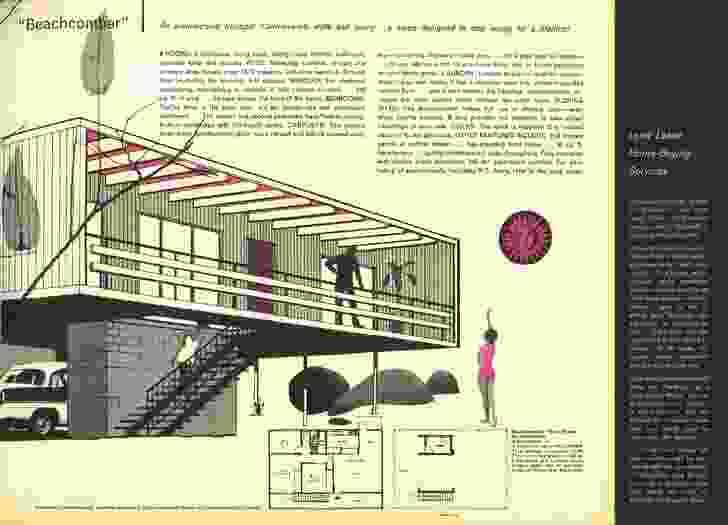 By using a matchbox partially opened with stick legs, Nino Sydney illustrated to Dirk Dusseldorph of Lend Lease, how they would soon produce a Le Corbusier style house for the Australian budget and climate. Today the stunning homes titled Beachcomber, Safari and Pan Pacific are quietly located throughout urban zones, and still contrast starkly with less Modernist designs that have come to surround them. These mid-century classics are a rare and somewhat endangered species that are directly related to one of Modernisms greatest architects, Le Corbusier.
Nino Sydney summed up the Beachcomber, and more broadly the Sydney Style as follows: "The Beachcomber main supports are steel, top structure metal clad hardwood insulated with wool. The design was suitable Sydney's bushy and sloping areas. Great for rocky outcrops and gum trees. It treated land very lightly. It became a very economical and suitable home for young families. The first Beachcomber featured three large walls painted in primary colours, and was full of light given the walls stop internally and are topped out with glass panels."
Numbers are limited — registration is essential.
6 July 2014
1 pm – 3 pm
Free, limited numbers
Information & registration
Event details
Date
Sunday, 6 Jul 2014 Past event
Location
Faulconbridge, Blue Mountains, NSW, Australia
Map
Related topics