An open house and art exhibition in the Blue Mountains suburb of Woodford. On 6 April 2014, Morton House will be open to the public for inspection, while hosting the Eco Spirit exhibition of transcendental art, curated by Jacquelene Drinkall. The event is part of the series by Modern Art Projects (MAP) exploring the curation of contemporary art in unique architecture and gardens, and includes talks by the owners of the house, past and present, and Drinkall as curator.
Also known as the Cave House, Morton House was designed and built in 1979 by Deirdre and Ivor Morton. Overlooking a spectacular ravine, the house is in the organic modernist style and features handmade mud-brick walls, an overhanging Australian native roof garden and inner atrium.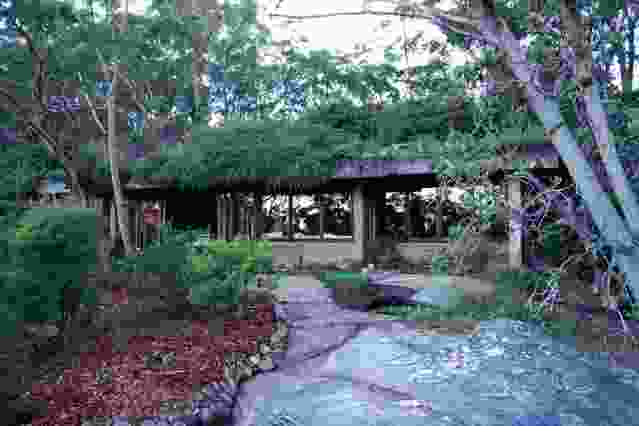 Deirdre and Ivor had spent their early childhood in the Walter Burley Griffin estate at Castlecrag NSW. Deirdre is a renowned naturalist and the daughter of Ula Maddocks, a figure from Castelcrag's influential circle of artists, architects and bohemians. As part of the open day, she and Ivor will give a talk about the making of the house and their life there. Also talking will be the current owners, Cristina Ricci and biologist John Porter.
Also giving a talk will be artist Jacquelene Drinkall, guest curator of the Eco Spirit exhibition, which includes work by Alex Wisser, Ben Denham, Beata Geyer/James Culkin, Bim Morton, Fiona Davies, Georgie Pollard, Gianni Wise, John Douglas, Locust Jones, Paul Greedy/Tom Ellard, Sarah-JaneNorman, Sarah Keighery and Vicky Browne.
Registration is essential and the address will be printed on the ticket.
Note: Parking is limited and there's no ramp access into the property. Woodford train station is a short distance away.
1-5pm
Morton House
Woodford, Blue Mountains, NSW
Event details
Date
Sunday, 6 Apr 2014 Past event
Location
Morton House
Blue Mountains, NSW, Australia
Map
Related topics