The national speaking series Our Houses will travel to Melbourne this month, with Sioux Clark and Tim O'Sullivan of Multiplicity and Anita Panov and Andrew Scott of Panov Scott Architects both presenting projects alongside their clients.
Billed as "a conversation between architects and their clients," Our Houses offers architecture enthusiasts the chance to go behind the scenes to see how architects collaborate with their clients.
The Melboune event will be held at the Brickworks Design Studio in Richmond on 18 July from 6 pm.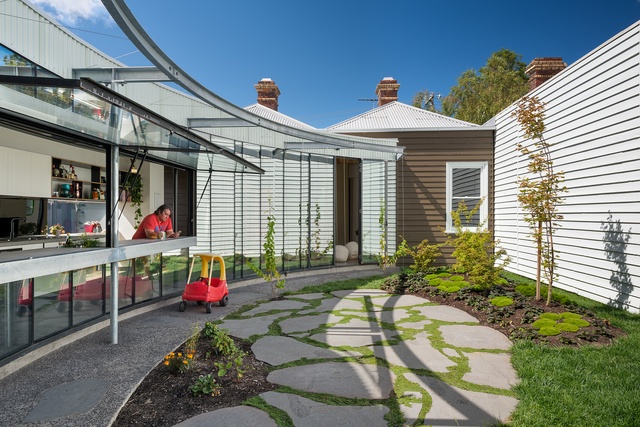 Sioux Clark and Tim O'Sullivan will present their Frank Lloyd Wright-inspired house The Great Australian Bight. Cutting a dramatic curve through its lot, this alteration and addition to an East Brunswick house is grounded in its garden setting and built for family life. The project was an unusal one for the architects because, as they say, the clients "went off and chose one of the more interesting design options. And that doesn't happen as often as you'd perhaps think."
Anita Panov and Andrew Scott of Panov Scott Architects will present alongside their clients 1 0f 16, a unique dwelling in a row of Sydney terrace houses. This project involved the transformation of a dwelling of high heritage significance. "In isolation it is about the specific and radical increase in amenity that might be enabled by our intervention," say the architects. "But things are never in isolation and the specific context positions the project as 1 of 16 dwellings."
The Our Houses talk series is part of Architecture Media's Design Speaks program. The events are presented by Houses magazine, with presenting partner Brickworks. Attendees can earn two CPD points.
A double pass sale for the Melbourne event ends 5 pm Monday 9 July. For further information and to buy tickets head here.