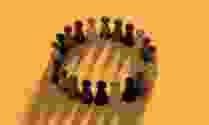 What is an inclusive workplace? Why does it matter? What are the advantages and opportunities? How do you build a genuinely inclusive and diverse workplace?
Dr Karen Morley, of Karen Morley & Associates and co-founder of Gender Worx, will outline the ingredients of the inclusive workplace, and how this might be achieved. Followed by a panel discussion with Anna Maskiell from SKM, Carey Lyons from Lyons, Joshua Wheeler from MGS Architects, and Debra Low Choy from Bates Smart, it will be chaired by Dr Karen Burns from the University of Melbourne and co-editor of Parlour: women, equity, architecture.
The event starts at 6 pm. Bookings are required and can be made at the Australian Insitute of Architects Victorian Chapter website.
Event details
Date
Monday, 20 Aug 2012 Past event
Location
Student Lounge
Ground Floor, Baldwin Spencer Building (Building Number 113), University of Melbourne, Parkville, Vic, Australia
Map
Related topics