Architecture Australia, January 2011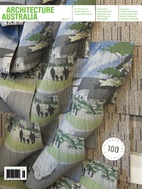 January 2011 (Vol 100 No 1)

Karl Fender's introduction to the January 2011 issue of Architecture Australia as Institute president.

Editor Justine Clark's editorial from the January 2011 edition of Architecture Australia – the 100th edition.

The 2010 A.S. Hook Address, by Gold Medallists Lindsay and Kerry Clare.

A woman of character – Richard Evans and Ian McDougall remember Catherine Evans, BArch, Grad Dip, MBA.

Experience abroad and a thorough understanding of architecture and planning informed the work of this Perth architect.

Procurement: Processes and outcomes, problems and opportunities.

This article looks at recent research on the sustainability of western red cedar with examples of its application in projects.