Architecture Australia, July 2011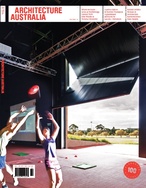 July 2011 (Vol 100 No 4)

Brian Zulaikha's first foreword for Architecture Australia as the president of the Australian Institute of Architects.
The editor's letter from the July 2011 issue of Architecture Australia.

This Melbourne practice's iconic projects chart an intriguing course through context, form-making and the urban experience.

Andrew Woodward remembers his father, Bob Woodward, BArch (Hons) FRAIA, AILA.

Scott Osborne of Total Synergy discusses the challenges of managing a busy practice – invoicing, budgets, backups – and how a strategic approach can smooth the way.

Autodesk Ecotect Analysis software can help analyse the performance of conceptual building designs.
A letter published in Architecture Australia discussing the dropping of "Royal" from the Institute's name.