Architecture Australia, May 2011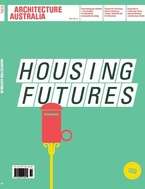 May 2011 (Vol 100 No 3)
Cameron Bruhn farewells Justine Clark as editor of Architecture Australia and welcomes the new editor Timothy Moore.

Hélène Frichot reviews a recent exhibition on the work of Chancellor and Patrick.

Claudia Perren reviews an architectural exhibition where artists and architects sought new urban solutions.

Anthony Burke reviews an authoritative reference text and guide to computational work in architecture.

Camilla Block and Gaetano Palmese remember Nick Murcutt and his spirited approach to architecture and life.

Automated window covering firm Somfy explains the importance of tailored envelopes.

Rob Malkin and Dominik Holzer consider real-time design collaboration when working with 3D digital models.

Bruno Seguin of Horiso discusses facade innovation by looking at three developments set to get 6-star Green Star ratings.