Architecture Australia, July 2012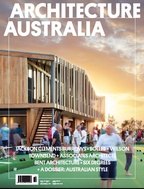 July 2012 (Vol 101 No 4)

Think Space guest curator Adrian Lahoud launches Past Forward architecture competition in 2012.

Australian and international architects and artists speculate on a new relationship to energy in an Amsterdam exhibition.

The framing of glass with fabricated steel is an ongoing experiment for John Wardle Architects.

Architect Paul Porjazoski and Architecture Australia editor Timothy Moore talk to residents at Living Places.