Architecture Australia, July 2013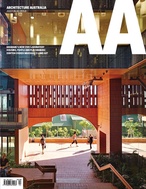 July 2013 (Vol 102 No 4)

This issue of Architecture Australia traces the truly wide-ranging influence the profession has on our communities, our livability and our cultural richness. The projects …

The Economics of Good Architecture

Shaneen Fantin reviews Bill Gammage's publication on how Aborigines made Australia.

Professor Philip Goad reviews the seminal work by Philip Thalis and Peter John Cantrill.

Peter Besley talks about his small London practice and its competition-wining design for Iraq's parliament complex.

James Grose and Brian Donovan on the merging of their acclaimed architectural practices.

The Rev. Michael Paget reflects on the infamous signboards of St Barnabas in Sydney.

A custodial environment that allows Indigenous prisoners to maintain their connection to country.