Architecture Australia, March 2013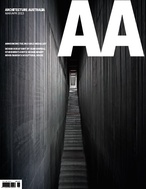 March 2013 (Vol 102 No 2)

Reality television has come a long way since Big Brother, the lowest common denominator, social train wreck, first aired over a decade ago. Back then …

Four propositions win the competition to speculate on a new Australian national capital.

Sean Godsell Architects' RMIT Design Hub functions "as both a building and declaration".

Architectus and Guymer Bailey Architects boldly express ideas of justice and openness.

Wood/Marsh Architecture explores architectural form-making, materiality and the possibilities of site.
The Robin Boyd Foundation maintains the legacy of this seminal Australian architect and educator.

Reconsidering the work of John Andrews, the 1980 Gold Medallist.

Cities of Hope: Remembered/Rehearsed looks at this confronting, yet humanist architecture.

Professor Leon van Schaik discusses the work of 2013 Gold Medallist Peter Wilson.

Studiobird speculates on things outside the mainstream of architecture.

A moment's reflection on landscape by 2013 Gold Medallist Peter Wilson.