Architecture Australia, January 2014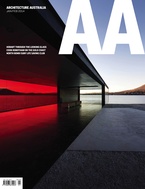 January 2014 (Vol 103 No 1)

This issue of Architecture Australia considers how Australian architecture serves as both a symbol and an expression of the different cultural identities of each state. …

Maitiú Ward reviews a sweeping survey of Melbourne's cultural identity, now on at the NGV.

Pritzker Prize Laureate Fumihiko Maki talks with Philip Drew.

The design review process is a fixture of architecture schools, but does it have a place in the creation of our cities?

The ambitious work of March Studio is underpinned by an abiding interest in materiality.

A competition-winning scheme for Green Square brought this young Sydney studio into the spotlight.